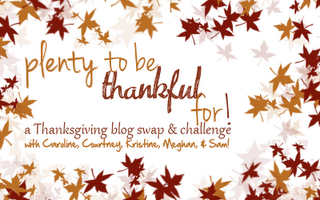 Meant to post this Monday, but well... I got called into work and got a late start on my blogging last night (and forgot about it over the weekend - oops!).
So here's days 1 & 2 of the Plenty to be THANKful for link-up!
Day 1: Guilty Pleasures!
Pop songs/artists
I hate to admit it, being mainly into rock and metal... but I find Britney to be catchy, like some JT's stuff off his 2nd album... working in a kid's clothing store Miley Cyrus and even a Justin Bieber song have grown on me (gasp! In my defense though - he samples The Cardigan's "Lovefool"!). I like to shake my booty to Lady Gaga... and Elton John is one of my all-time favorite artists.
Gene Simmons Family Jewels
Sure, the Osbournes did it first, but I much prefer the Simmons-Tweed clan!
Trashy VH1 Reality Shows
VH1 stopped making reality shows like they used to, but I still occasionally catch a rerun of one of the greats: Rock of Love, I Love Money, Charm School, Daisy of Love, Megan Wants a Millionaire, Tool Academy, the first season of Tough Love, For the Love of Ray J, Real/Chance... Yeah - those ones! Forget the stupid Basketball Wives, TO, LaLa and whatever reality shows they have on now - bring my trashy trainwreck TV back!!!
Sex and the City
I've never been a girly girl, but I got hooked on this show in college when TBS added it to their late-night lineup for several years! It's such a good show and I hate how up-tight people think it's all just about them having sex - it's not, it's about their friendship! And totally relatable at times! (My favorite is Charlotte, but OMG I totally relate to Miranda!)
Day 2: YouTube (and other internet fun!)
Oh man, I don't know how to narrow it down, but here's a list of some videos (mostly YouTube) that I've posted here on the good ol' blog -
the Sesame Street Glee parody
,
Sing-Talk
,
Simon's Cat
,
True Blood Meets Twilight
,
PeeWee Gets an iPad
,
My Mom's on Facebook
,
College Humor's I Gotta Feeling parody
,
Real Life Twitter
...
And because she's so cute and I'm sure Jay'll be giving a recap like this in the near future...
Star Wars According to a 3 Year Old!
And of course...
Nobody Sings in the Library (by Prangstgrup -
the "Reach" video
is funny too!)