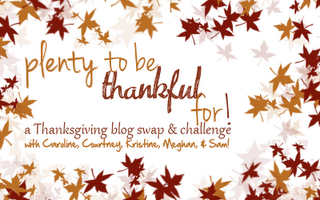 Thanksgiving Traditions!
I've mentioned time and time again, I'm a Dallas Cowboys fan, despite living in Northern Illinois. How that came about was due to watching The 'Boys play every Thanksgiving! So naturally, hubby also being a HUGE Cowboys fan, missing the Thanksgiving Day game is unheard of for us! =)
Since getting married, we started alternating where we do Thanksgiving dinner - my family is here in town, but hubby's parents live almost an hour and a half away so doing 2 in one day is just a lot. Not to mention in years past I've either had to work on the holiday (the joys of being management at a movie theater!) or work the next day on Black Friday (this is my 3rd year doing so, not to mention last year we went out at midnight and waited 4 hours for Target to open!).
This year, Thanksgiving is with my family, however with the majority of my brother-in-laws living in town now, hubby's parents and young sister will be coming into town this year for Thanksgiving dinner, having it at 2 of my brother-in-law's place literally down the street and around the bend from my parent's house so we're planning on stopping by to at least say hi.
Other than that... no major Thanksgiving day traditions - football, dinner with family and occasionally watching a Christmas movie after dinner to kick off the Christmas season!