*note* I started typing this up last night but didn't get a chance to finish and post before we had to head out for dinner
Since tonight is New Year's Eve and tomorrow marks the beginning of a brand spankin' new year, I figured I'd take a quick moment to reflect on my 2010.
In 2010, I...
Went to my first hockey game (January)
Hubby and I attended the Pink in the Rink Icehogs game with my Mary Kay unit as all proceeds went towards breast cancer awareness. It was neat because the players were wearing pink shoelaces and they dyed the ice rink pink too. We won the game - it was pretty cool and I'd like to go again sometime in the future!
Earned us a Wii (February)
I was fortunate in the months prior to be lucky enough to get VIP of the Month on my VH1 focus group forum multiple times within several months. The prize each month is Amazon.com giftcards - the VIP gets a $100 giftcard while 5 Honorable Mentions get $20 giftcards. I had decided that rather than get a bunch of smaller stuff, I'd save up my giftcards and get us a Wii along with some accessories (ie: a 2nd controller and a dual charging dock) and extra games. Nothing like free stuff for just sharing your opinions!
Experienced jury duty for the first time (February)
It was an interesting experience to say the least. Spent a February morning sitting around in a large waiting room at the courthouse with a few hundred people. They would call us in groups of 40 to go to different courtrooms. I got called shortly before lunchtime and made my way to the designated courtroom where they swore us all in and then began the jury selection process - I was one of the first selected (as they needed 11 jurors plus 1 alternate). They dismissed us for lunch and started the case later that afternoon. The first witness kept making references to another case that the defendant was involved in and I quickly realized that the other case he was involved in included relatives of my good friend. I mentioned it to the bailiff and the next morning they dismissed me from the case, afraid I might be biased towards the defendant knowing what I knew.
I made a whopping $26!
Attended a Mary Kay conference (March)
I went to the annual Mary Kay Career Conference which is held in March. My unit went to the location just over the Illinois/Wisconsin in Madison at Monona Terrace which was built by Frank Lloyd Wright and is located right on the lake! It was really neat experience and helped get me pumped up for my Mary Kay business. I also enjoyed the overnight with the girls as I got to know some of them a lot better and really enjoyed our dinner at the Great Dane Pub and Brewery. We also had an awesome hotel room too!
Decided to Quit my Mary Kay Business (April)
As inspiring as Career Conference was, it motivated me to put more effort into my business as I had been a slump after the holidays with hardly any sales. I tried and tried and it just seemed like it was getting me nowhere despite my best efforts. It was a hard decision to come to, but I really felt like maybe it just wasn't for me and after 6 months I decided to give it up and move on. I miss the weekly girl time, but I still feel like this was the best decision to make. Don't get me wrong - I love the products, and the company and it's foundation is great (I've seen and heard testimonies of how it changed some women's lives) however it just wasn't for me.
Got excited over the latest Sookie Stackhouse book (May)
Book 10 came out in May and having gotten caught up on both the book series and TV show near the end of 2009, I was sooooo excited to get my hands on the next book in the series. Okay, so it was mostly a filler book wrapping up things from book 9 and bridging the way to events that are going to happen in book 11, but still - it was a fun and entertaining book!
Checked out Chatroulette (May)
Here's a
detailed post about my "adventures" with this particular online chatting fad
(do people still use it? I haven't hear much about it in months!). I didn't have a webcam so it made things even more interesting as not everyone likes to "chat" with a green box, lol...
Made it past the 1 year mark (May)
Something happened in May 2009 that totally turned my world upside down. I refuse to publicly go into details about it as it was/is a personal matter between me and the other person it involved but it really shattered and hurt me deeply. But, a year later, we made it through that. I still struggle occasionally with what happened and the emotional issues it caused - even a year and a half later - but only when something triggers that particular memory and emotion. They say time heals all wounds and while I try to keep this one covered, it's one of those wounds, or scars if you will, that will ultimately just take time for me to be 100% completely over and moved on from - when you have years and years of trust built up with someone very close to you and that trust is completely broken by a major act of "I wasn't thinking", things don't just "go back to normal" that easily or quickly. It takes time.
Tried Sushi (May)
Hubby and I both had never tried it before and were curious so we made a lunch date to finally cross this off our bucketlists. It was alright - I was more hesitant than he was (he ended up eating most of the sampler platter we ordered) but I did LOVE the California rolls!
Got a Smartphone (May)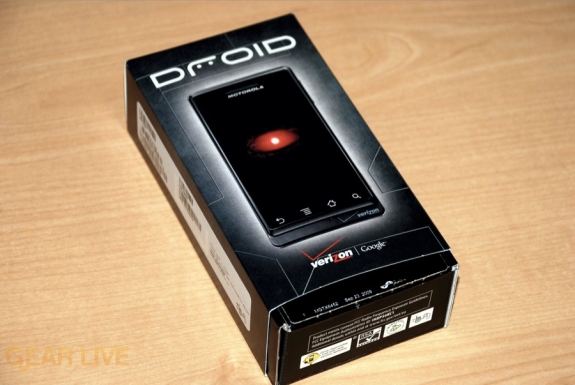 Hubby got his his a few months prior and while I was hesitant at first and didn't see the point, I quickly fell in love with the idea of a pocket computer (as I dub smartphones). I was originally thinking of waiting until Verizon got the iPhone, but after playing with hubby's for a good bit, I fell in love with the originial Motorola Droid and ended up getting myself one as soon as we had an upgrade available on our family plan with share with my parents and sis. I can't imagine having any other phone!
Attempted to Walk Tiger on a Leash (May)
Yeah, we've tried it twice and neither times were successful! The first time we got her out our hallway and up to the stairs towards outside, but when we opened the door she freaked out and did backflips down the stairs to get back to our apartment! The 2nd time we got her outside and she freaked out - she didn't like it one bit! Seems she got a bit traumatized from outside when she had her little adventure out there in 2009!
Announced Our Pregnancy (June)
After talking about it when hubby's biological clock finally kicked in around early April, we decided to start trying to have a baby. I started charting my cycle and doing the temperature thing and it would seem we conceived at the very end of May. We found out via 3 positive home pregnancy tests just over a week before Father's Day and waited until then to break the news our families (via "Grandpa" Father's Day cards to our dads and a "Grandma" birthday card for my mom since her birthday was 2 days before Father's Day).
Started Playing WoW Again (July)
While I technically quit playing at the end of 2009, I didn't actually cancel my account until January. I picked it up again in July and a few weeks later I got a Beta invite for the upcoming expansion. I started playing the Beta a good bit, and then returned to play my Boomkin some... it was a love-hate thing as some months I'd play more than others. I've been enjoying the new expansion though - everything seems "fresh" and "new" and "fun" again, although I'm playing more at my own pace, taking my time and enjoying it for once than rushing through it.
Turned 26 (August)
The only thing really "memorable" about turning 26 is that it means I had been driving for 10 years... which means I not only had to get my license renewed but I had to retake the written test too! I aced it, after having read through and did the quizzes in the Rules of the Road handbook the week before. I got a lot of fun stuff for my birthday though - a few books, movies, Wii games, and the
super cute WoW Windrider Cub
from hubby.
Got my 1st Pedicure (August)
I had never gotten one before and my mom treated me and my sister to one with her (mom and sis were going to an out of town relative's wedding over labor day and decided she'd take me to get one too as part of my birthday present!). It was a neat experience and I hope to go a few times throughout the year as a seasonal thing.
Celebrated our 2 Year Wedding Anniversary (September)
Considering how rough our 1st year of marriage was, year 2 was A LOT better!
Found Out We're Having a Boy! (September)
We found out at our 18 week appointment (a whole 4 works prior to our scheduled "big" anatomy ultrasound) that we're having a boy - Jaydran Alexander. It was during one of my cervical ultrasounds, where they were checking on my cervix length since I had the LEEP done at the end of 2008 and wanted to make sure there wouldn't be complications. The ultrasound tech asked if we wanted to know the gender in the event she could see anything and of course we said yes! And kiddo was cooperative enough for us to find out! We're calling him Jay for short and it's been nice knowing as it's made bonding with him already a neat experience - I *hated* referring to him as an it.
Went to the Apple Orchard (October)
I honestly don't recall having gone to the big local apple orchard since I was just a young kid in grade school and we took a field trip once upon a time. It was neat to go though and I hope to make it an annual thing for us. A few years ago it had gotten destroyed by a tornado (there was an area campaign to get Extreme Makeover involved as it's sort of a community/area landmark) but they had rebuilt it just a year or so ago and reopened recently.
Became an Aunt Again (October)
Hubby's older brother and his wife gave birth to their 2nd son, Lucas Sky, in October - Jay's going to have a cousin close in age, how neat!
Went to Dallas, Texas and saw a Dallas Cowboys game at Cowboys Stadium (October)
It was a really nice, relaxing and fun trip! My college roommate had moved down to Dallas in summer 2009 and she had mentioned having friends from Illinois come visit her down there. I've always wanted to visit Texas and hubby's been a huge Cowboys fan since way before I met him in December 1997. When we talked about doing a vacation to visit my former roommate hubby was game, so long as we went in the fall during football season and could catch a Cowboys home game at their stadium. We made it happen! We drove down there (which wasn't a bad drive at all considering it took us about 16 hours) and had a relaxing time in our hotel, fun hanging out with my former roommate and her now-fiance, seeing some sights down there and going to Cowboys Stadium. The game we went to was the Monday Night Game against one of our major division rivals - the New York Giants - and just happened to be the game where Romo broke his clavicle. It was still a fun experience though, especially for hubby as the tickets were his birthday present and he had never been to an NFL game before. We did the stadium tour too which was really neat as we got to go to all different areas including Jerry Jones' private suite, the Cowboys locker room, the cheerleader's locker room, and got our picture taken on the field too!
Got in a Car Accident (October)
Unfortunately our awesome vacation had a not so awesome ending, as we were making good time on the drive home but ended up hitting a buck at about 1130pm just as we were nearing St. Louis! It did about $7500 worth of damage to our car we had gotten in early 2009, but fortunately insurance took care of us (yay Progressive!), hooking us up with a tow and rental car first thing the next morning. I went to the ER as soon as we got home just get checked out since I'm preggo and all, but everything turned out to be just fine and we're all okay!
Got My Hours Cut at Work Again (November)
Found out soon after vacation that I was getting my hours cut at work again, this time down to 1 day a week and I'd be paid hourly. Kinda bummed me out, but there's not much I could do about the situation - we've had little business most of the year and didn't have anything on the calendar for the rest of 2010.
Got a Seasonal Job (November)
In light of getting my hours cut at work again, I immediately went and started applying for seasonal jobs just to give myself something to do and contribute a little to our income still. I ended up getting hired right away by The Children's Place, which I love all the cute clothes they have for kids and have used my 25% employee discount several times already. Unfortunately though, the mall hasn't been all that busy this Christmas shopping season so I've had at most 2 actual shifts a week, some of which they even called and canceled on me because it was so slow out there, and lately all I've been schedule for are "call-in" shifts where you call an hour before the scheduled time and see if they're going to need you or not - so far, I haven't had to go in for any of my call-in shifts. Kinda bummed about that, as I'd prefer to be working more, but again, not much I can do about it - it's the economy.
Found Out We're *Very* Close to Being Homeowners (November)
This has been an ongoing thing since fall 2009, as we first went to the bank to get pre-approved for a home loan back then, only to learn that hubby had *really* bad credit. We've spent a good bit of 2010 cleaning it up, paying some old stuff off and it weren't for a glitch with my Mary Kay Chase Visa card we would have gotten approved this last time we went in in November. We made a few purchases on it this past month that we'll have paid off in January so we should be able to go back in the next month or so and get it!
Got a New Laptop (November)
I got a Mac Powerbook back in spring 2004 and since then it's been through a lot! In 2009 I started having issues with the part inside the laptop where the powercord plugs in not reading it half the time. We've tried ghetto fixing it as it would cost around $300 for the part and labor, but it was just getting annoying and I knew it was time for a new laptop - it was pretty out dated too as far as the drivers, videocard and OS. Hubby got himself a new "toy" (the Samsung Galaxy tablet) and I decided to apply for a Best Buy card and get myself a new "toy" as well, however I figured a laptop would be a good purchase as it's something we (me, hubby and eventually Jay) could all get use out of. I love my new laptop though - it's a Dell Inspirion AMD and it's fast and snazzy and plays WoW and surfs the internet just great!
Waited in the Cold for Black Friday Sales (November)
Yep - hubby thought for Christmas this year, instead of gifts for each other, since we needed a new TV anyway, that we'd get ourselves this 40" LCD flatscreen HDTV that Target had on sale for $298 on Black Friday morning. Since it was pretty much one of the best Black Friday bargains out there, we had to camp out for it, taking turns in the cold for nearly 4 hours. But we were able to get one, so it paid off!
Found Out I Have Gestational Diabetes
For those not in the know, gestational diabetes is a type of diabetes that isn't uncommon for pregnant women to get. Turns out, I have it. If left untreated it can have negative affects on baby (such as him being huge/fat, as well as possibly be born with hypoglycemia and develop diabetes), so we tried controlling it with diet and exercise by putting me on a low-carb diet and monitoring my glucose levels by pricking my finger when I first get up and an hour after each meal. Recently they put me on medication to help with it as my fasting numbers were a bit high.
And there ya have it - my highlights of 2010. I must say, in retrospect, it was DEFINITELY a MUCH BETTER year than 2009 was... sure we've had a few mishaps this year, but it was like one thing after an other like it seemed to be in 2009 - we had a lot of good, fun times and just rolled with the punches. Everything seemed to work out.
2011 is here now... while I know there's plenty of exciting things already in store for us, I'd be lying if I said I wasn't a little scared or nervous as we have some pretty big life changes coming up this year! But here's to hoping it's just as good to us as 2010 was, if not even better!