I'm so excited - I won a blog giveaway!!!
I've entered in a few before but wasn't lucky enough to win the grand prize. This time around though, I won 1 of 4 prizes up for grabs!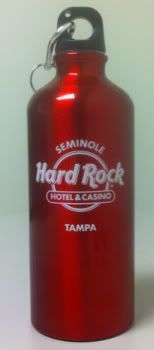 The other day,
the Badass Geek
posted about a giveaway he was doing in which a reader with connections to the Hard Rock Cafe wanted him to plug an upcoming show and had some free swag for him to giveaway - some nice aluminum Hard Rock Cafe water bottles! He made it really simple to enter the giveaway and so I figured why not?
I won one of these neat red ones (which you can see to the right), which I figured I can store somewhere in Jay's stroller or diaper bag and take me with when we go for walks this spring and summer!
I came across
the Badass Geek's blog
early last year - I believe I was surfing the blogrolls of some friends on 20-Something Bloggers to find blogs that appealed to me in order to increase my own blogroll and saw that several followed a blog called the "Badass Geek." Intrigued by the title, as I'm a bit of geek myself, I decided to check it out. He posts some really amusing, humorous stories about his daily experiences ranging from things that happen at home and work to just public places in general. I was hooked and had to add him to my own blogroll! Another neat thing is that him and his wife are expecting "Baby Badass" later this spring, so that's another thing in common, which he sometimes posts about as well.
Be sure to
check him out
- if you're like me in the least bit, you'll be hooked!