I was drawing a bit of a blank on what to post for this week's Flashback Friday until I was going through my Google Reader and read
Simone's post, reminicising of Myspace
, on
her blog Skinny Dip
and it got me thinking about the old days of the now defunct social-networking site.
In her post regarding Myspace, Simone asks:
Was it a space for connecting with old friends? A open forum to perv on random strangers? A dating site? A music site? A platform to connect scantily clad teens with future Dateline predators? ALL OF THE ABOVE?!
I'll admit, with my own experiences on the site as well as that of others, I often wondered the same things!
I want to say it was sometime during spring semester 2004 or fall (during my Sophomore year of college). At the time I was living in the "upperclassmen" dorms which was a more quite environment than the dorm I lived in my Freshman year, save for our little corner of the floor. Each floor had 4 suites - 2 with bathrooms in them, 2 without, and 1 set of each in the 2 corners of floors triangular layout. I lived with 2 other girls in our 4 person suite and the 1 often went home to work on the weekends so it was mostly just me and the 1 other roommate there on the weekends. In the suite next to us (the one with the bathroom in it), lived a few guys that we got along with pretty well and would often hang out with.
The guys moved into an apartment together the follow fall while me and the one girl moved into a suite on the floor above us. We kept in touch with the guys and that fall one of them introduced me to Myspace, insisting I make a profile on it too.
I didn't really see the appeal - I was already on a few smaller college networking sites (one of which I met my long-term college roomie through, as learned we had classes together!), but whatever. He wouldn't leave it alone so I made one... and kinda forgot about it.
NIU got added to the Facebook directory a few months later (back when it was known as www.thecollegefacebook.com) and I enjoyed that one much better as it more exclusive, I could easily find and connect with people I went to high school with as well as connect with people that were in my current classes. It was pretty neat!
I would occasionally login to Myspace but half the time my inbox would be flooded with messages and friend requests from creepy looking people or spams from random bands that I really had no interest in checking out. What made Myspace all the more amusing were the random messages and friend requests my long-term roomie would get from some really strange people! She'd get some long messages from this guy that claimed to be her dream man... he also claimed to have some mental issues too (as in being mentally handicapped), although who knows how much of what he said was true and how much of it was just someone playing around online - they were really strange!
There was a time from around late 2006 through 2008 that I was somewhat active on Myspace.
I started dating hubby and all his siblings were on Myspace, mostly utilizing it for their band's stuff, but I thought it'd be nice to connect with them a little bit since I was finally dating their brother. Also, I was able to reconnect with some actual friends from high school who started using the site as well and we all started blogging more over there as a way to share our day to day life experiences and whatnot. I also got in touch with some cousins and relatives who I hadn't seen or connected with in years as we don't live near each other.
Thankfully 99% of them migrated over to Facebook in the years after it became less exclusive and became open to anyone with a valid email address.
Looking back though, Myspace was always a bit creepy compared to Facebook. On Facebook I've been able to find people I actually know much more easier than I had on Myspace and interact/connect with them better while I've rarely been contacted by random strangers wanting to be friends on Facebook compared to the tons and tons of requests from strangers I'd get on Myspace!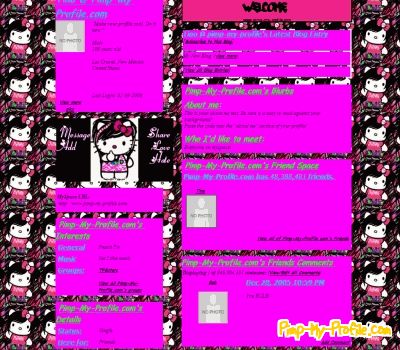 And while it was nice to be able to customize your Myspace page with a music playlist and change the colors/layout of your profile, some people (or rather A LOT of people) would go overboard with their customization. Some would make it so you were forced to listen to their bad taste in (sometimes embarrassing) music as they'd embed a separate music player that you couldn't pause or silence while viewing their page. Others would have pages that would nearly crash your web browser upon visiting their page as they had SO MUCH glitz and glam and flash going on - those usually made me close their page and never go back to it as it just took waaaaay too long to load on a normal internet connection!
I just logged into Myspace for first time in forever just now... it's lagging up my browser. I also find it hilarious that it gives you the option to login/create a profile by connecting via your Facebook profile! Compared to Facebook, the "newsfeed"/status feature they added just looks messy.
I haven't gotten any "creepy" messages or friend requests from strangers in awhile it seems - the last one I got was from a guy named "Mike."
Mike writes:

-----subject: Hi Sweety-----
Hello im mike lookin 4 someone special. If single i hope 2 hear from u. Take care.
Clearly, Mike can't stop to read the "basic" info my limited/private profile has displayed to the public, one of which piece of info states that I'm married. I point this bit of info out to him and he apologizes, never messaging me again.
I also loved (note the sarcasm) getting messages/friend requests from unknown bands, especially ones where the subject/message states that I seem like their target demographic... yet when I go to their band page, um... yeah - their music IS NOT the type of music I listen to AT ALL. Those that know me or have followed this blog for awhile know what type of music I like and am into - it's not that hard to figure out (especially when on Myspace I have listed my favorite bands and specific genres I'm into).
Did you ever have a Myspace page?
Do you still use Myspace?