This afternoon and evening the weather has been PERFECT out - 79 degrees, sunny with a nice occasional breeze.
I've been a bit lazy about that this week when it comes doing some carido, but I DID get my Shake Weight and Bally imitation Thighmaster and have used those a bit this week. I'm not sure if the Thighmaster's working, although I do feel a little bit of a burn right after using it, and the Shake Weight... I know I've knocked this product before due the obsurdity of the commercial (it seriously looks like they're giving a... well, if you've seen the commercial and have the same mindset hubby and I do, you know what it looks like they're doing!), but it REALLY does work! I've only used it a handful of times this week since I got it, but you can really feel the burn in your arms!
Anyway, in order to fit in some cardio this week, I decided, with it being so nice out, I'd go rollerblading on our nearby walking/bike path. I decided I'd skate over to Sonic near the end of the path (last time we went all the way, we crossed the busy street and ate at Taco Bell for dinner and DQ for dessert) - I figured a cherry limeade would be a nice refreshing drink and since it was around dinnertime anyway and I hadn't really eaten yet today I'd order a hot dog off the $1 menu.
(In the photo, home is A, Sonic is B - there's a stoplight at one the city's main roads about halfway between the 2, and the another major road and stoplight near the end of the path - home to the 2nd stoplight is roughly 2 miles).
Well I got to the end of the path a lot quicker than the last time we did it (skating is better than walking!), and decided I'd cut through this parking lot and then the grass between this mini shopping area and Sonic... although there was a 4ft black tarp fence halfway through the grass, not to mention a mini ravine/creek that was a few feet below the grass, so I had to walk in the grass next to one of the busiest roads in town til the shoulder appeared, where I skated on that for like 20 feet, then walked in the grass between the road and the Sonic parking lot.
Not fun.
Although getting there wasn't so bad, but I still got a nice blister on the inside of my left foot from walking in skates the way they weren't meant to be walked in.
I ordered my hot dog and drink and finished em and within 10 minutes I left to make the trek back.
Walking through the grass from Sonic back towards the road, I forgot that I needed to walk side ways so the wheels didn't start rolling on me (which they did) and I fell on my butt. Luckily I was on grass. But then I had to go uphill in the grass to get back to the road - that was a bit of a workout! I got to the road, skated the 20ft to where the shoulder disappears and as I'm stepping back onto the grass I fall again - my butt landed on the grass, but the palm of one of my hands hit the gravel and the pavement. It stung at first and was a little cut, but not too bad. I got up, worked my way through the grass to the intersection, crossed and got back on the walking/bike path.
They REALLY need a better path to get from the bike path to Sonic - at least with Taco Bell and DQ they have it so you can easily cross the intersection and get to those parking lots without going through much traffic.
Anyways, I made it home - the whole 4 mile trek. I was sweaty and craving water by the time I got back, but I took my skates off when I got inside and just sat on one of the chairs for a few minutes. Tiger spent about 10 minutes sniffing my skates, in and out.
I took my socks off - I got a blister, and then it popped while I was skating home, so it's all kinda weird looking right now. I also put some generic neo-sporin stuff on my palms after I washed em with anti-bacterial soap.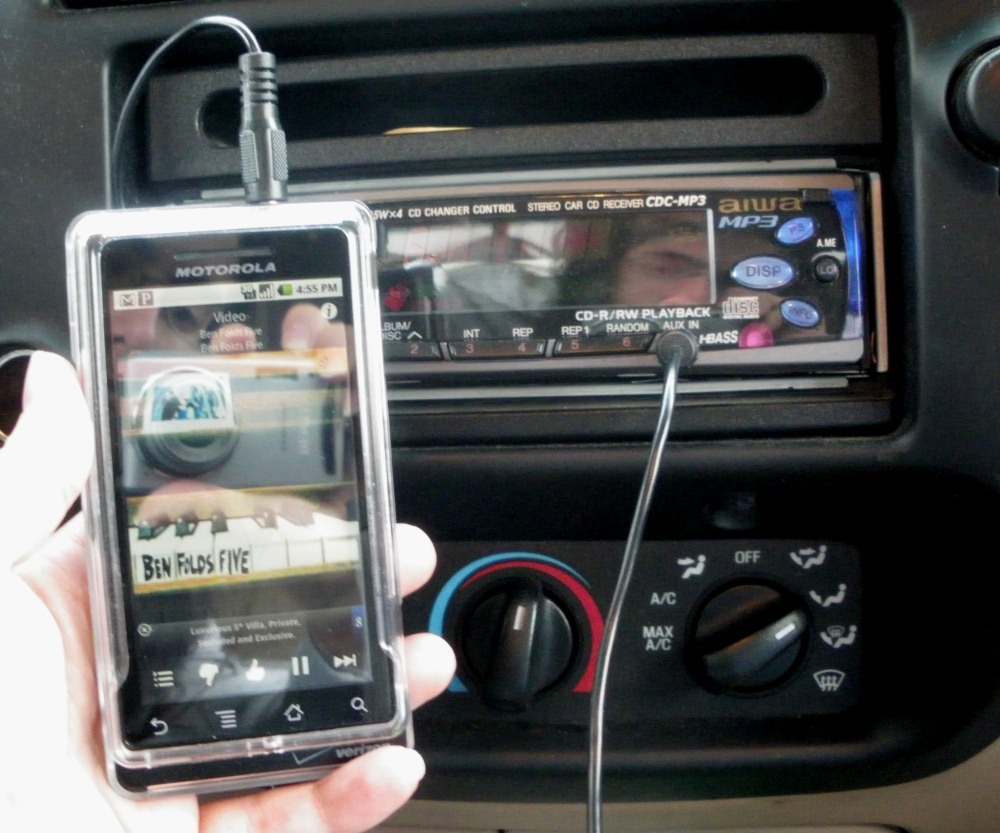 I like that my Moto Droid can double as an iPod though! I have some of music on there already, but I also installed Pandora Radio on it last night and I tried out a few different stations while I was out. It was pretty nice - I used my iPod earbuds, plugged em in, put my phone in my pocket and off I went, listening to music and not missing any text messages as I went. It was nice not having to carry both a phone AND a music player!
I'm spent though! This rollerblade outing sure kicked my butt today - I'm ready to just chillout at home the rest of the night! =)