That aside, we're getting a nice little summer storm here in northern Illinois/southern Wisconsin - driving home I heard on the radio that just over the border there was walnut-sized hail and 60 mph winds!
So I've had my snazzy Moto Droid smartphone for a little over week now and thought I'd share some of the apps I regularly use on it. The cool thing about the Droid is that it's VERY customizable!
First off, here's the outer bit of it:
It has both an onscreen touch keyboard, as well as a slide out full QWERTY keyboard, so whichever you prefer (I tend to use the vertical onscreen keyboard, while on hubby's he uses the slide out one - I have trouble hitting the top row of keys though as I have nails).
I also have an Ed Hardy skin on it that hubby got me as a surprise. He gets discounts on these things, which is good, as I never would have spent the money on a designer phone shell. In edition to the Ed Hardy line, you can also get designer Coach shells for it (which has the logo plastered all over it) or you can you can various plain colored ones too.
Next, the screens:
The standard Moto Droid comes with 3 home screens, although hubby's brother got us an app that can allow to you have either 5 or 7 total (3 is fine with me though for now!).
On the left screen, I have my "push to dial" speed dials up top (which include hubby, my mom, her house phone, the radio station I listen to all the time, as well as work) and on bottom I have my "push to text message" shortcuts (which include those I regularly text).
On my home (center) screen, up top I have a widget app called Beautiful Widgets, which displays the nice sized clock, my current city, the date, the weather and the highs and lows for the day. I also have most of the default apps on this screen - the phone button to get to my dialpad, my text message box, my contacts, my web browser of choice (Skyfire), Maps (aka GPS), and Camera shortcut. Also, up top on the left side of the notification bar, I have an app installed called BatteryTime Lite, which displays the percentage of battery life I have left on my phone.
Then on my right screen, I have extra apps I regularly use - Facebook, Twidroid (which is an awesome Twitter app!), Foursquare, Blogaway, Greed2, Sudoku Free, Menstrual Calendar, Pandora Radio, Shazam, The Bible, and the Android Market shortcut.
Let me explain some of these apps.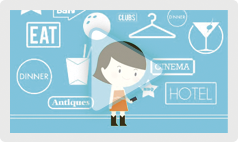 Foursquare
is this neat website
that you can sync up to your phone (or via text if you don't have a smartphone) and as you visit various places - work, restaurants, bars, stores, etc. - you can select it via GPS or add it if it's not already there, and "check in," showing that you're there. The more times you visit a place and check-in the more likely you are to become "Mayor" of that place. What's cool about being Mayor is that some places give special treats or discounts to whoever the current Mayor is - for example, I heard Starbucks gives a discount or a free drink and some restaurants give free items or discounts as well to reward those that are always coming there. The more you play Foursquare and check-in to places you unlock fun little Badges. It also has a friends list feature where you can see where you're friends are or where they've visited and get recommendations of places and leave recommendations of your own! It's pretty neat!
Blogaway
is a nice Blogger app that lets me visit my blog, check comments, respond and simply make and edit posts (although I hear it's annoying if you're trying to include photos).
Greed2
is Google Reader app and the only one I've found that I liked, is simple and works (I honestly tried over 5 before I found this one online). It keeps track of all your Feeds and makes it easy for them to read (videos and some images don't always show up though). You can also see comments and make comments too. I also love that the icon for this app is the little orange guy, sitting on a toilet reading a newspaper with the big feed symbol on it!
Sudoku Free
is just that, a free Sudoku app. I got hooked on Sudoku while working at the theater and I love it! It's fun way to tickle your brain when killing time. You can select your setting - easy, medium, hard and extreme and then it times you and records your time so you can work on beating your records. There's also a "hint" button too incase you get stuck - so far Extreme is the only level I haven't been able to beat without using hints.
Menstrual Calender
is just that - if you ever tried charting this is a nice app that makes it easy to enter in your temperature and all the other details that go along with charting. It's easy to set up and adjust to your cycle and it even can give you notifications, letting you know that that "time of the month" is right around the corner.
Pandora Radio
is an app that lets you listen to Pandora Internet Radio. Just like online, you can set up stations, skip 6 times and hour, thumbs up or thumbs down a song, etc. It comes in handy!
Shazam
is an app that lets you figure out what the name or band of a song playing is. Have you ever been out listening to the radio or at a bar and you hear a song you like but don't know what's called or who it's by? Turn on Shazam, it'll listen for a few seconds and pop up what the song title and band is! Pretty neat, huh?
The Bible
's self-explanatory - it's a Bible app, comes in handy for church, and lets you select one of like 12 translations (I prefer the NIV). It breaks it down by book and then by chapter.
Other apps I've found neat:
Aldiko - this a free book app where you can download a lot of the classic as well as some creative-commons books and read them on your phone when bored. I found one creative commons book called FTW: For the Win, which sounds like gamers going Battle Royale after they get trapped into gold farming.
Amazon - lets you access your Amazon.com account, add to your wish list, search for and purchase items and pretty much anything else you can do on the actual website.
Collage Creator - this lets you select photos on your phone and it'll turn them into a nice collage that you can save online as a jpg and use how you wish!
Coupons - hubby uses this one more than I do, but it's a simple coupon app that daily gives you coupons on items and to restaurants and you can email them to yourself and print them out to use - we recently used a $5 off $25 or more one that we found for Buffalo Wild Wings.
Documents to Go - view your downloaded word, excel, pdf's and more documents that you might get in your email.
Droid Armory - for us WoW gamers out there, a simple, easy way to show off our characters and gear while on the go - it works like the WoW Armory, but you can "favorite" all your characters for easy access.
Ebay - like the Amazon app, this one works with your Ebay account, telling you your current bidding, selling, watching, winning and expired auctions. You can also do most things on it that you can on the website.
Goggles - this app takes a picture of an item and then tries to find it online and compare it with other stores to let you know who has it and who has the better price.
LOLsites - a mobile way to view LOLcats, LOLdogs, FailBlog, EpicWin and other sites in a slideshow format.
Movies by Flixster - a quick to see what's playing at theaters near you.
Phone Flicks - view and update your Netflix queue!
Ringdroid - take your mp3s on your phone and snip and clip them to create a customized ringtone
Ringo Lite - take your created ringtones from Ringdroid and apply them as text message and contact ringtones for specific people (currently, without this app, you can only add a ringtone for when someone calls you, not text you)
Timeriffic - Don't want your phone going off while you're at work? Set Timeriffic up so that it will automatically set your phone to silent or vibrate during the timeframe you're at work and then it will automatically change your settings back to normal at the time you enter that you get off work. Pretty neat if you ask me!
The more I use my Moto Droid, the more I LOVE IT!
Don't knock a smartphone until you've tried one, as I didn't care much for 'em until hubby got his and then I couldn't wait to get one of my own!