I'll do better and give ya 3!
First, are 2 good cookie recipes I've found.
"The Perfect Chocolate Chip Cookie" submitted to AllRecipes.com by Emily
I make these from time to time instead of always buying cookies from the store. An interesting thing about this recipe is that you use vegetable oil instead of butter, so they feel a bit soft and greasy, but they taste great!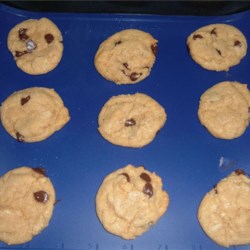 Ingredients (makes approx. 24):
2 1/2 cups all-purpose flour
1 teaspoon baking soda
1/2 teaspoon salt
1 cup vegetable oil
1 cup packed brown sugar
1/2 cup white sugar
2 eggs
1 teaspoon vanilla extract
1 teaspoon almond extract (I usually leave this one out as I'm not big on almonds)
1 cup semisweet chocolate chips
Directions:
1. Preheat oven to 350 degrees F (or 175 degrees C). Stir together the flour, backing soda and salt; set aside.

2. In a large bowl, cream together the vegetable oil, brown sugar and white sugar until smooth. Beat in the eggs one at a time, then stir in the vanilla and almond extracts. Blend in the dry ingredients, then fold in the chocolate chips. Drop by rounded spoonfuls onto ungreased cookie sheets.

3. Bake for 8 to 10 minutes in the preheated oven. Allow cookies to cool on baking sheet for 5 minutes before removing to a wire rack to cool completely.
Peanut Butter Hershey Kiss Cookies
My dad's mom used to always have these at her house at Christmastime and I fell in love with them. Eventually my mom started making them and I think I got this recipe from her (although it could have been online), as they're one of my favorite Christmas cookies. Hubby doesn't like peanut butter though, so I found a shortbread version that I make in addition to these, just for him.
Ingredients (makes approx. 48):
Directions:
1. Whisk together flour, baking soda and salt
2. In a separate bowl, mix shortening and peanut butter; add both sugars, beat til fluffly; add egg, milk and vanilla extract
3. Add flour in 1/2 cup incriments, beating after each addition
4. Batter will become stiff
5. Place batter on plate; divide into 4 equal sections and then divide those sections into another 4 equal sections. Make 3 balls from each section.
6. Place on cookie sheet (pending size of your sheet, you should be able to get 24/sheet)
7. Bake at 375 degree F for 8-10 until lightly brown
8. Once removed from oven, immediately press Hershey Kiss into center of cookie
9. With a spatula, place cookies on a cooling rack
Chicken Tetrazinni by Tim Brooks from the 100 Men Who Cook cookbook
This is a simple everyday dish you can make for dinner or for a group of people and save the leftovers to reheat later. My mom gave this recipe after having made it for me and hubby once, although I've made slight modifications to it, as I don't like mushrooms which it originally had included (which you can see in the photo below).
Ingredients (serves 10):
Directions:
1. Boil chicken in salted water
2. Remove chicken and cook noodles in same water (break noodles in 3 before cooking).
3. Cube chicken and mix in with noodles, cream of chicken soup, salt, pepper and Parmesan cheese and pour into baking dish.
4. Sprinkle mozzarella cheese over top and bake at 350 degrees F for 30 minutes