Day 4
Favorite Holiday Movies/TV Specials
I LOVE the Christmas movies!
As I mentioned earlier this week, our favorite is:
A Christmas Story!
Unless you've been living under a rock, this gem takes place in the 1930s/40s (as the year isn't actually said) and follows 10 year old Ralphie and his family as all he wants for Christmas is a Red Ryder BB Gun despite everyone telling him "You'll shoot your eye out!" There's also various other hijinks that are just downright funny and hilarious, but the film is still quite sweet! While it wasn't a hit during its initial release, it gained classic status over the years and while we make a point to catch 24 Hours of A Christmas Story every year, one year hubby wanted to watch it early so we sought out a copy on DVD for own.
Other favorites include Elf (Will Ferrell as Buddy the Elf, seeking out his birth father and spreading Christmas cheer wherever he goes!) and National Lampoon's Christmas Vacation (where the Griswold's try to have a fun old-fashioned family Christmas with Cousin Eddie and all!).
As far as the animated Christmas specials go...
My favorite is the original Boris Karloff version of Dr. Seuss' How The Grinch Stole Christmas.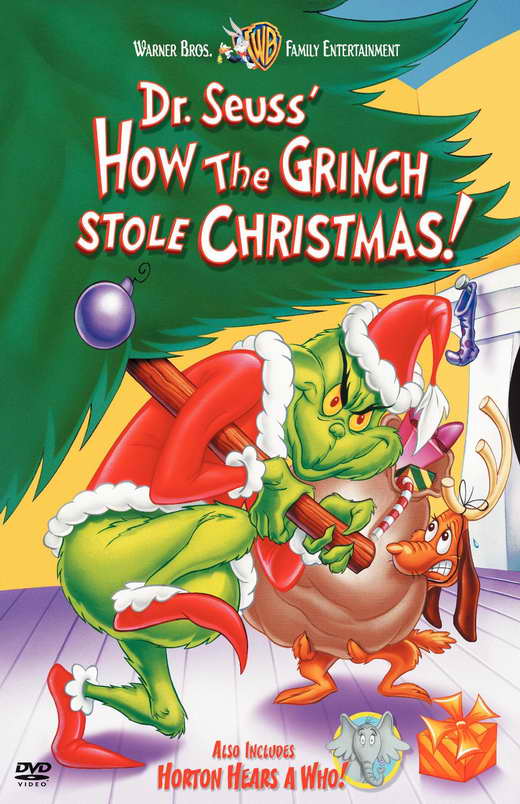 I *hated* the live-action Jim Carrey massacre of it - waaay too much focus on Cindy Lou and the sappy backstory... just give me the original animated version please!
I also scored a great deal last year on Amazon, getting the Original Christmas Classic Collection. Granted, only 4 of them are worth watching (Little Drummer Boy, Frosty the Snowman, Santa Claus is Coming to Town and Rudolph the Red-Nosed Reindeer), but it's still a great set to have since they don't replay these nearly as much as they did on TV when I was a kid (Frosty was my favorite back then!). I love the claymation though and was sooo excited last year when Community did their Christmas episode all in claymation, giving a nod to all the great Christmas classics!
I can't wait to watch these classic Christmas specials with Jay over the years - I really hope he enjoys them like I did as a kid (and still do to this day!)
We did add 2 new Christmas specials to our collection this year just for Jay:
Elmo's Christmas Countdown, where Elmo and Abby help Stiller the Elf (voiced by Ben Stiller, lol...) save Christmas with the help of other celebrity guest - I got this one during Border's GoB sale last summer for just $8! And the VeggieTales' The Toy That Saved Christmas which I haven't seen in years but couldn't pass up.when I saw it in the $5 bin at Walmart recently.