Another holiday-ish story that moved me... when celebs live up to their word.
I'm sure we all remember last summer when Afghanistan-based Sergeant Scott Moore posted a YouTube video asking actress Mila Kunis to be his date to a Marine Corps Ball and then shortly after she said she would Corporal Kelsey De Santis posted a YouTube video for Kunis' Friends With Benefits co-star Justin Timberlake asking him to take her to her Marine Corps Ball. He agreed as well, but many wondered if they would actually follow through or if this was just a publicity stunt for their new movie which was due to be released soon.
Turns out, they both did. And reports say they were very humbled and respectful at the balls.
How neat is that!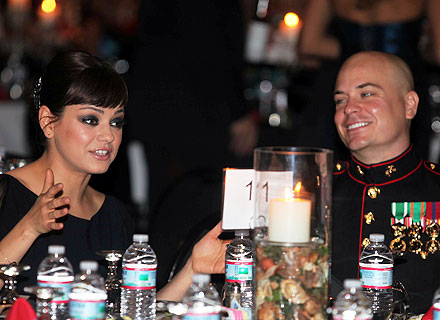 Mila Kunis and Sergeant Scott Moore
Corporal Kelsey De Santis and Justin Timberlake
I've always liked Kunis (and even more so after I found out she was a hardcore WoW player like myself) and JT... while I wasn't really an N*Sync fan, he was my favorite in their group and he grew on me after I really liked some of the songs off his 2nd solo album.
This just makes me like them even more! They really made these soldier's evenings and what a great way to show support for our Armed Forces!