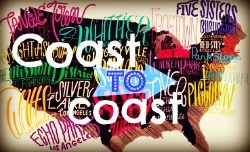 Not gonna lie, I'm a tad jealous of my Texas blogger friends as they're all pretty closing and get the chance to
meet up from time to time, participate in local stuff together, etc.
I've looked/Googled for bloggers in the Northern Illinois and Southern Wisconsin area, but haven't really had much luck (the majority of my search results are the professional blogs of our local newspaper reporters - not the kind of bloggers I'm looking for, obviously!).
So you can imagine I was thrilled
when I saw that Angie made a post recently
about
Shane's Bloggers Coast to Coast link-up
! Apparently there's other bloggers out there that seem to have the same problem as me - there seems to be no other bloggers in your area! Well thanks to Shane's link-up, I found a handful of bloggers within 90 miles or so of me! How exciting!
So if you think you're alone in your neck of the woods of Blogland,
check out the link-up
and see what other bloggers exist in your area! Maybe build some new friendships!
This is "The Symbol" along the river
walking path. No one really seems to know
what it's supposed to be or mean, but
whoever the artist was that scrapped
this thing together sure was a genius!
If you're visiting from the link-up, I'm in Rockford, IL - approximately 90 miles west of Chicago and just south of the Wisconsin border. It's made Forbes' list of 10 most dangerous cities 2 years in a row now, but it's home for me. I've lived here most of my life aside from when we moved to a small town called Malone in upstate New York due to my dad's job 2 weeks after I was born but we moved back when I was 2 (again, due to my dad's job). I also lived for about 6 years 30 miles south in DeKalb when I attended NIU for college and stayed down there awhile after graduation until a job brought me back to good ol' Rockford.
Rockford is also the home of rock band Cheap Trick (you know their songs "I Want You to Want Me," "Surrender," "Dream Police," and many others over the last 3 or 4 decades), Michelle Williams of Destiny's Child, and Jody Benson (aka Ariel from Disney's classic "The Little Mermaid").