Last week Jill, over at
Life After College
, shared a list of some of the concerts she's gone to over the years. It sounded like a fun idea and I have gone to a bunch of concerts over the years (I was a bit of a concert junkie for awhile!) so I thought it might be fun to share some of mine!
The first concert I ever went to was Amy Grant's tour for her 1991 album Heart in Motion. I don't recall how my best friend and I got into Amy Grant (aside from our parents liking her music) but we both had to have her albums and would sing and dance along with them. When we found out she was coming to our town we were soooo excited! I remember my best friend's parents got tickets for them to take her and I really wanted to go too, so when my parents were talking about going for their upcoming wedding anniversary (which was right around the time of the concert) I begged them to let me go too! They gave in, and got me a ticket and I remember how exciting it was - my first concert that wasn't Sesame Street Live!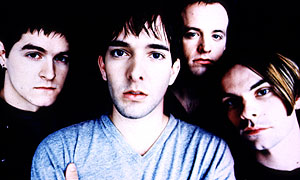 The next concert I remember going to was Jars of Clay back in 6th grade. At the time, they only had the one album out, with their debut crossover hit song "Flood." I remember they were doing an autograph signing at the mall earlier in the day and my friends and I waited in line to have them sign our CDs!
In spring of 1997, near the end of 7th grade, my aunt and uncle took my friend and I to Chicago's annual Q101 Jamboree Festival in one of the suburbs. To be honest, we hadn't heard of many of the bands playing, but we still thought it would be fun to go! We got to see The Mighty Mighty Bosstones, Veruca Salt and The Verve Pipe before we took off for the day (it was getting rainy and cold!), despite my friend and I wanting to stay for the main headliner, Bush, as it was known that Gavin Rossdale and No Doubt's Gwen Stefani were dating and there were rumors she might make an appearance (we loved Gwen and No Doubt back in Jr. High!). We couldn't last out the cold though, so we left early and ended up seeing Jurassic Park 2 on our way back home (my friend and I also got hyped up on Jolt Cola too - bad idea for a set of giggly 12 year olds!)
I remember my dad also took me and my friends to see the Newsboys when they came to our hometown, with special guests Audio Adrenaline and Jennifer Knapp. That was a pretty fun show! I remember for the Newsboys, they came down to the stage on platforms that were lowered from the ceiling and they were all in spacesuits, as this was the tour for their Take Me to Your Leader album.
The summer between 9th and 10th grade I went to Cornerstone '99 in Bushnell, IL. This weekend long music festival was huge for anyone into Christian music, as it featured Christian bands from all genres - rock, techno, metal, you name it, they had it. I remember seeing the swing band Deluxtone Rockets, P.O.D. (who was very popular at the time), punk rock band Ghoti Hook, Scottish band The Electrics, the infamous Ragamuffin Band, Sixpence None the Richer (again, popular at the time thanks to "Kiss Me" being featured in the movie "She's All That"), ska band Five Iron Frenzy who recorded part of their live album at this show (my name is in the linear notes!), Latino band Burlap to Cashmere, Jars of Clay, swing band The W's, ska band The Skadaddales, ska band The Insyderz, and once again, the Newsboys. I also met bassist Phoenix from Linkin Park at one of the merch tents, as he was on tour with his former side band Tasty Snax who were playing there. I remember they were all flirting with the girls in our group, saying how they'd be looking for us at their show and how sad they would be if we weren't there (we didn't go - we had our group's session to attend at the time they were on). All in all, it was a fun time though!
I saw various other Christian bands perform during my Jr High/early High School years, such as a tour that the ska band O.C. Supertones did with Plankeye and Flight180; Third Day with Jennifer Knapp and Burlap to Cashmere did a show at our church packing the main sanctuary, and the ska band BUCK and rock band Breathing Machine rocked our senior high room. I also saw Newsong several times (once with Erin O'Donnell) and I saw Jars of Clay later on while they were touring with Caedmon's Call. I also accompanied my little sister to see Skillet perform in a nearby town (Freeport) after she won tickets to their show off the radio!
In high school I went to several shows that were held downtown, at my town's annual On The Waterfront labor day weekend festival. One year, my friend and I went and saw Jakob Dylan and his band The Wallflowers (oh how we loved his piercing blue eyes in 9th grade!), as well as the Blessid Union of Souls with Fastball. The guy I dated in high school and I also went to see local band that hit it big Aunt Flossie (now known as Hedder) open for Union Underground, although we didn't get to stay for Union's set as we had a curfew back then and had to be home.
In Spring of 2000, near the end of my sophomore year, I first heard Linkin Park and became a huge fan for the remainder of high school. In early Spring of 2002 (the end of my senior year) a friend and I finally got to see them live up in Madison for their first annual Projekt Revolution tour - on the bill were DJ Z-Trip, Adema and Cypress Hill. Needless to say, we had a GREAT time! I saw Linkin Park approximately 2 years later at the same venue, for their 2004 Meteora World Tour with Story of the Year, Hoobastank and POD but it just wasn't the same - they had gotten *too* popular and being almost 20 years old, I felt like I was at a kiddie convention with as many short junior highers and young teens that were there.
My 2nd semester in college I had my first experience seeing a band in a niteclub. Various bands played Rock Night at the niteclub back home, however that place never had any 18+ shows so I could never get to go. Fortunately though, the niteclub that brought in rock bands down at college did occasionally do 18+ shows so we were able to attend. For this particular show, we got to see Nonpoint open for Papa Roach. Being in a niteclub setting and a small college town venue, it was awesome! Jacoby Shaddix - the singer of Papa Roach - came down into the audience and moshed for a bit and really interacted with the crowd - it was really neat (I got to pat him on the shoulder, hehe!). Throughout college, my roommate and I also went and saw Lucky Boys Confusion perform at this niteclub as well. Being that they were from a town only 45 minutes away (the guitarist, Joe, actually lived just a few blocks over from the guy I dated in college and babysit him back in the day; I had a roommate who's boyfriend was part of their original street team as well) they could usually pack the place pretty well, so their shows always got crazy!
After my first year of college, I finally got to attend my hometown's annual Wing Ding festival (held the Sunday before Memorial Day) put on by the local rock station. The first year I went - 2003 - Powerman5000 was the big headliner, as they were on tour for their 2nd major album release. It was really neat too as I was able to get up close to the stage. The only downer was that some stupid parent let their little kid (under 10) crowdsurf and the kid got dropped. PM5K stopped their set and waited for about 10-15 min for a team of medical people to get through the crowd to the kid, make sure he was going to be okay, and then take him to safety. This unfortunately cut their set short, but it was still a good set! This started an annual tradition, as I went to every Wing Ding until the last one, which was last spring. Over the years of Wing Ding, we saw Cold, Breaking Benjamin (several times), Smile Empty Soul (I can't stand their singer's voice!), Seether, Tantric, Hinder, Saliva (several times), Buckcherry, Black Stone Cherry (several times), Finger 11, Red, POD, Chevelle, Drowning Pool, Theory of a Deadman, Halestorm, Coolio, Saving Abel (several times), Shinedown and once again Powerman5000 was back for the final year.
I remember driving up to Milwaukee during spring break one year with my long term college roommate to go see Atreyu at The Rave with Norma Jean and Underoath. We had a fun time, just the 2 of us girls, despite almost getting in a fight with some wannabe "hardcore" chick who kept mocking my attire (which is what I would often wear to shows). I heard her mutter something about Hot Topic in between her pulling on my hair, but I think she needed to look in the mirror as she was clearly the poster child for the store!
I also went to quite a bit of concerts during the early years I was with the guy I dated in college (which led me to believe he was a fun guy). In our first few months together we saw Taproot and then later Disturbed at the House of Blues in Chicago (that Disturbed show was the first and only time I ever crowd surfed - talk about a rush! I also saw Disturbed again later on sans loser boyfriend), as well as Evanescence. We also got tickets to go see Staind and Sevendust - I love Sevendust and haven't gotten to see them live, and well, Staind was alright so we figured why not. Well, I got out of class late, the local opening band didn't play, we got there an hour after the start time and well, Sevendust was on their last song. I wasn't too happy. Staind also kind of sucks live, not gonna lie! While their heavier songs are good, they play waaaaay too many of the sappy, acoustic ones in a row that you know it's bad when the audience is getting bored and begins talking amongst themselves after the 3rd slow song in a row!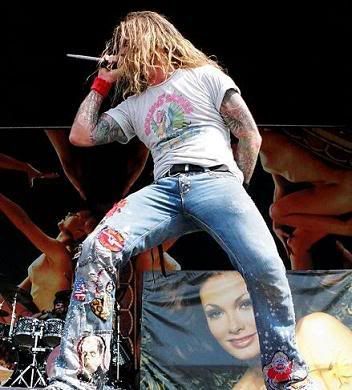 We also went with some friends to Ozzfest 2005 up at Alpine Valley in Wisconsin. This was the year that both Iron Maiden and Black Sabbath were both headlining and Mudvayne and Zak Wyld's Black Label Society were also on main stage. I was really looking forward to seeing Mudvayne live, as at the time I was really into their latest album, Lost and Found, but it was quite the disappointment, as the main stage was on a hill so you couldn't get anywhere near the stage, and the singer of Mudvayne must have been drunk cuz he kept mixing up the lyrics to their biggest songs (such as Happy for example). On the 2nd Stage, we saw Killswitch Engage and Rob Zombie was the headliner. Now I know, the big attraction at Ozzfest that year was Iron Maiden, and while it's cool to be able to see I saw them and Black Sabbath perform on the same stage, for me however Rob Zombie stole the show. I had sooooo much fun during his set and he really did put on a good show, not to mention 2nd stage was just more fun in general as you were closer to the bands.
I also saw Static-X several times live. Have I mentioned how much I love Wayne Static? Seriously, if anyone knows how to make plushie dolls - please contact me - I would love a little Wayne Static plushie! But honestly though, Static-X and Powerman5000 are probably my 2 favorite bands to see live (and I've seen them both 3 times now). They both put on such a good show and I LOVE seeing Static-X at the House of Blues in Chicago - it's such a great venue for their show because it's such a smaller venue - you can really feel the band interacting with you! It's such an awesome energy!
In 2008 I got to go to day 2 of Chicago's annual Lollapolooza festival. My long term college roommate's cousin was close with one of the promoters so he gave her a set of VIP passes for each day and I got the 2nd pass for day 2. The VIP sections were nice - we had luxury porta potties, catered meals, and free vodka mixed drinks all day (we took full advantage of those!). Throughout the day, we saw Does It Offend You, Yeah?, the Gutter Twins, MGMT, Brand New, the Toadies, and Rage Against the Machine were the headliners and I was completely blitzed by the time they took the stage. One thing to experience - seeing a band live while you are under the influence of alcohol - it makes the concert going experience completely different, I'll tell you that! And I will always have the memory of rockin' out like that to Rage whenever I hear their songs on the radio!
Now the cherry on top, for my 25th birthday, we got to see
Nine Inch Nails' last show ever in Chicago
as part of the 5 city Wave Goodbye tour. Talk about an epic birthday - I really had a great time and it was just a lot of fun!
And for those that are lost, with all my jumping around, here is the full list of all the bands I've seen up to this point, starting with the most recent and working backwards:
Wave Goodbye 2009 - Nine Inch Nails, Mew | Wing Ding 2009 - Halestorm, The Parlor Mob, 10 Years, Coolio, Powerman 5000, Saving Abel, Saliva, Shinedown | Disturbed, Skindred | Lollapalooza 2008 - Does It Offend You, Yeah?, Gutter Twins, MGMT, Brand New, Toadies, Rage Against the Machine | Wing Ding 2008 - Chevelle, P.O.D., Theory of a Deadman, Blackstone Cherry, Drowning Pool, Airbourne | Wing Ding 2007 - Breaking Benjamin, Buckcherry, Finger 11, Blackstone Cherry, Red, Operator | Cannibal Killers Tour - Static-X, Otep | The Broken Fall | Nonpoint | Wing Ding 2006 - Tantric, Hinder, Saliva | Powerman5000 | Static-X | Nonpoint | Ozzfest 2005 - Killswitch Engage, Rob Zombie, Mudvayne, Zak Wyld's Black Label Society, Iron Maiden, Black Sabbath | Static-X | Wing Ding 2005 - Seether | Lucky Boys Confusion | Atreyu, Norma Jean, Underoath | Drowning Pool | Disturbed, Escape from Earth, Perfect Red | Wing Ding 2004 - The Heavils, Steriogram, Breaking Benjamin, Smile Empty Soul, Cold | Lucky Boys Confusion | Jars of Clay, Cademon's Call | The Goodyear Pimps | Linkin Park's Meteora World Tour - P.O.D., Hoobastank, Story of the Year, Linkin Park | Staind | Evanescence | Taproot, Socialburn, BoySetsFire | The Heavils | Anavox | Wing Ding 2003 - Socialburn, Revis, Doubledrive, Powerman5000 | Papa Roach, Nonpoint, Reach454, Die Trying | Skillet | Breathing Machine | Linkin Park's Projekt Revolution 2002 - DJ Z-Trip, Adema, Cypress Hill, Linkin Park | Aunt Flossie | Anavox, Project 86 | Newsong | The OC Supertones, Plankeye, Flight180 | Blessid Union of Souls, Fastball | The Wallflowers | Third Day | Cornerstone '99 - Deluxtone Rockets, P.O.D., Ghoti Hook, Electrics, Ragamuffin Band, Sixpence None the Richer, Five Iron Frenzy, Burlap to Cashmere, Jars of Clay, The W's, The Skadaddales, Insyderz, Newsboys | BUCK | The Why Store | Turkeypalooza - MWE3, Anavox | Newsboys, Audio Adrenaline, Jennifer Knapp | MWE3 | Q101 Jamboree '97 - Mighty Mighty Bosstones, Echo and the Bunnymen, Veruca Salt, The Verve Pipe | Newsong, Erin O'Donnell | Jars of Clay | Amy Grant