I've always enjoyed reading. When I was little, my parents used to read me a book or two before bed. Now it wasn't until about first and second grade that I could read "big" books, but I did have a slew of children's books that my parents would read me.
The Pokey Little Puppy
. This story was about a cute little pokey puppy that due to his poking along all the time managed to stay out of the trouble his siblings got into, until he decided to join in and it comes back to bite him in the butt. Another favorite Little Golden Book of mine was
The Monster at the End of This Book
. This one featured Grover from Sesame Street and starts out with him telling us that there is a monster at the end of the book so we better not turn the next page, but of course we do. He then in turn freaks out about it and then begs and pleads with the reader to stop turning pages, all while taking so measures as "tying the pages together" or "building a brick wall on the page." When we get to the end though, the only monster there is silly ol' Grover, who realizes that, duh! He IS a monster - a cute fuzzy lovable one!
Another Little Golden Book I really liked was The House That Had Enough. In this one a girl named Anne lives in a house, but doesn't take care of any of her things - she slams doors, leaves clothes on the floor, food and dishes all over the counter, and the caps off her toothpaste. One day, the house and everything in it decides that they have had enough of Anne not taking care of them and so all her belongings sprout legs and begin a mass exodus. Just as the house itself is about to leave, Anne comes home, shocked that everything has left and the last few remaining things inform of her why they're leaving. She feels bad, apologizes and promises to take better care of things, so everything comes back and she helps put them away properly. Another thing I liked about this book was the little girl's name was Anne, spelled exactly like my middle name!
I Like to Help my Mommy
was another obscure Little Golden Book, and I'm not sure if many others have read it. Throughout the book, a little kid tells us about all the different ways they help their mommy - at the grocery store, at home, in the garden... It was one of those books that would inspire us to go help out a bit more.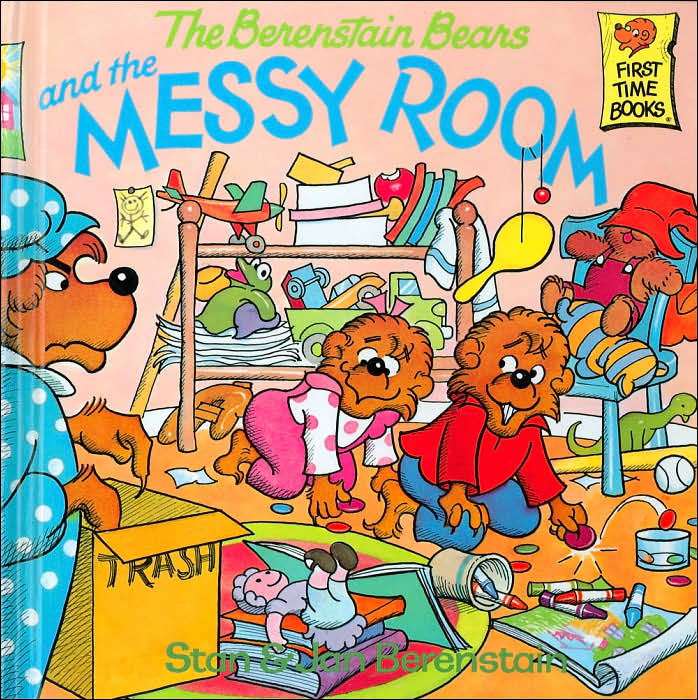 Who can forget Clifford the Big Red Dog and the Berenstein Bears? These were two book series I really enjoyed as a kid and had several of each. Interestingly enough, they were both turned into animated TV shows as well! In the
Clifford
books, we read about the times and adventures of Clifford and his owner - a little girl named Emily. Problem is, Clifford is bigger than a 2-story house, so taking care of a dog that size always tends to be an adventure! In the
Berenstain Bears
books, we read about Ma and Pap bear and their cubs Brother and Sister bear. Ma was the strict but loving parent, while Pa was more dim-witted. Brother and Sister were typical kids, getting into situations we could all identify with (not wanting to clean up their room, being afraid of the dark, sibling fights, etc).
Love You Forever
was one of those books that you HAD to read with your parent (especially your mom), as it tells the story of a mom taking care of and loving her son throughout the years, no matter what he's done, how he's dressing, or how old he's gotten and reciting a special little poem to him every night. At the end it even has a cute, sweet twist!
If You Give a Mouse a Cookie
was another one I used to practically memorize. The story starts out with the main character (a little boy) telling us that if you give a mouse a cookie, he'll want a glass of milk to go with it. However, as we learn throughout the next 30 or so pages, the mouse doesn't just stop there - one thing he wants and gets leads to something else he wants (and gets). This classic eventually spun off a number of other similar stories, such as If You Give a Pig a Party/Pancake, If You Give a Cat a Cupcake, and If You Give a Moose a Muffin.
The Little Engine that Could
is another one of those classic stories that everyone from my generation knows. "I think I can, I think I can..." was often a phrase we would say from the book while trying to do something. In this one, a bunch of toys are trying to hitch a ride to the other side of a huge mountain. The bigger Shiny New Engine and Big Strong Engine tell them "I can not, I can not" as they are too proud to do the job. The Little Blue Engine though, despite not being as new or as big and strong as the other engines, decides to tackle the task, even though not everyone thinks he can do it. Using his "I think I can, I think I can" mantra, the Little Blue Engine proves them all wrong!
A perfect book for bedtime,
Goodnight Moon
is another classic that most from my generation won't forget. Told in rhyme, we say goodnight to all the objects in a room, as we get to view some really neat illustrations. There's also a little mouse that pops up at various points throughout the book.
The Thingumajig's Book of Manners
is one that was given to me when I was really little and I remember my aunt used to reference it to me a lot. In the book, a little boy and a little girl tell us about Thingumajigs - troll looking creatures that appear to have no manners whatsoever. We are told, in verse, that they pick their noses, spit, scratch themselves and pick their teeth at the dinner table. For each thing the Thingumajigs do, the little boy and girl tell us of the correct way to do things and at the end they tell us that we don't to turn into a little Thingumajig boy Thingumajig girl!
The Very Hungry Caterpillar
was an interactive book, as one page showed part of the next via a hole or something else. We read about a caterpillar who is very hungry and seems to eat everything in site. Eventually, he makes a cocoon and emerges as a beautiful butterfly! I think after we read this one, we all made an effort to catch a caterpiller in a jar and take care of it. Unfortunately, none of the ones I caught turned into pretty butterflies like the one in the book.
Corduroy
was the story of a cute little bear with green overalls who is in a department store. A little girl named Lisa sees him and wants to take him home, however someone points out that the bear's overalls are missing a button. Feeling hurt, Corduroy spends the evening search around the department store for his button. At the end of the book though, the next day, Lisa returns, purchases Corduroy and takes him home with her, where she sews on a new, better button for him. I remember I wanted a bear like Corduroy!
A book series my mom started reading to me, that I eventually learned to read on my own were the Amelia Bedelia books. These humorous books followed the adventures of Miss Amelia Bedelia who was a maid yet she took everything anyone said quite literally. In Amelia Bedelia and the baby, she asked to babysit a baby. "Sit on a baby?!" she asks (I remember as a little kid being a bit horrified that she would do such a thing!). They tell her to feed the baby mashed banana, and so she does - she gives the baby a banana and lets her mash it. As a kid, I found this book and others in the series to be pretty funny!
What were some of your favorite books as a little kid?