This week's Flashback Friday is part 2 of a 2-parter regarding television shows I would watch in the 80s. This week, we'll be flashing back to the primetime shows I remember watching as a kid.
Alf
I don't know what it was, but for some reason I LOVED Alf, the brown funny looking alien that lives with the suburban Tanner family while trying to fix his spacecraft after he had crashed into their garage. One element played for comic value was that Alf was always trying to catch the family cat and eat it - a bit gruesome and strange when you think about it now, but as a kid, we just laughed and thought it was funny! Alf aired on NBC for 4 seasons in the late 80s. I remember Hardees had Alf toys and even mini hand puppet versions of the infamous alien - I had one, with him wearing a Hawaiian shirt and I remember playing with him a lot!
Perfect Strangers
An 80s sitcom classic, Perfect Strangers chronicles the adventures of Larry Appleton and his distant cousin Balki Bartokomous. Larry we learned just moved from a small town in Wisconsin to the big city of Chicago when Greek cousin Balki shows up. Knowing very little about America, Larry decides to take Balki under his wing and teach him about our country. As a kid, I didn't really follow the plot too closely, but I did find Balki to be extremely funny in the way he would pronounce and do things that were so common to us - he was such an outrageous character! Perfect Strangers also featured a character named Harriette Winslow as an elevator operator, who eventually got her own show spin-off - Family Matters.
Family Matters
Following Perfect Strangers, we are introduced to the Winslow family - Harriette and her husband Carl and their kids Eddie, Laura and Judy - and their lovable nerdy neighbor, Steve Urkel. As kids, we loved the character of Urkel, he was so funny and out there - kids could relate to him in some way! And there was so much Urkel merchandise too - I remember there was a talking Steve Urkel doll, where you pull the string on his back and he says one of him many catchphrases! While this show started in the late 80s, it lasted well into the 90s and we always enjoyed watching Urkel and his antics drive the Winslow family nuts!
The Cosby Show
There was something about Billy Cosby that we loved as kids. Growing up, we often watched the Huxtable family - Bill (played by Cosby), his wife Claire, and their children Denise, Theo, Vanessa, and Rudy - go through events and parts of life that we would experience at sometime in our lives, whether or not we realized it as kids. Over the years they added to the cast, adding eldest sister Sondra and her husband Elvin, and eventually Denise's husband Martin and his young daughter Olivia. Cosby had a way with kids, so watching him interact with them on TV was something we all enjoyed.
The Wonder Years
Ah Kevin Arnold, oh how we enjoyed watching your adventures through adolescence each week as you had your on again, off again relationship with Winnie Cooper. My mom enjoyed watching this show as it took place in the 60s and she was right around the same age as Kevin was when all that stuff was going on. I enjoyed watching it just because it was a fun show. To this day, we still enjoy watching this show, as it's one of those timeless TV classics. I was sad to see it in the 90s, after 6 seasons and I thought the way things ended with Kevin and Winnie was just sad - we were always rooting for them to finally end up together for good. Unfortunately, this one has yet to be released on DVD to trouble gaining all the music rights for it (much like the series Freaks and Geeks), as it displayed many, many songs from that era. I can't wait for when it is finally released though, as this is definitely a must have series!
Full House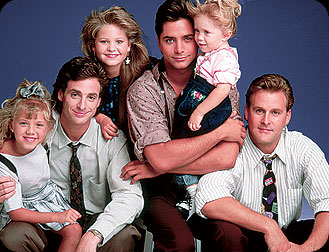 In the late 80s were introduced to another Tanner family - this one headed up by Bob Saget as Danny Tanner, raising 3 young girls (DJ, Stephanie and baby Michelle) with the help of his best friend Joey and brother-in-law Jesse after the sudden death of his wife. I was barely 3 when the show started, so I enjoyed watching the bits with the girls - especially Michelle and the way these clueless men tried to handle a baby (remember the episode where Joey and Jesse tried to change her diaper?). I also enjoyed watching Uncle Jesse do his Elvis impersonations. Over the years, this became one of my favorite primetime shows to watch. I remember being in gym class at school, talking about the previous night's episode with my friends. Even to this day, who doesn't stop to watch the occasional rerun while flipping channels? I know I do!
America's Funniest Home Videos
After a few seasons of Full House, Bob Saget also began hosting this weekly send in your funny home videos show. I remember watching this one after dinner Sunday nights with my parents, just laughing my butt off at all the funny pet videos, funny baby videos, people falling down or getting hit in the crotch with various objects... I always wanted to send one in, but we never caught anything really funny on video. We'd watch and at the end discuss amongst ourselves during the commercial break which video of the top 3 we wanted to win. I'm actually surprised to learn that this show is still on the air!
Quantum Leap
In the late 80s we were given this Sci-Fi show on NBC, where scientist Sam Beckett gets lost in time and can "leap" from one persona to another in different parts of time. I honestly didn't watch too closely, but I did remember some of the scenarios Sam would get stuck in would be pretty amusing!
Beauty and the Beast
Before the Disney film of the early 90s, in the 80s we had this television show to look forward to each week. Set in modern day New York, Beauty is named Catherine and is a lawyer who gets kidnapped, beaten and left for dead in Central Park until kind, yet horrifying looking Vincent finds her and takes her back with him to the hidden tunnels and world under the city, where he lives as he nurses her back to health. Naturally the two have a romantic relationship and she becomes interested in his world. This series only lasted 3 seasons, but it was one I enjoyed watching, as it was based on a fairytale.
Shelley Duvall's Faerie Tale Theatre
In the 80s, Shelley Duvall was all about family fantasy programming and created this hit fantasy series. Originally airing on Showtime, PBS picked up on Faerie Tale Theatre and would play a new hour-long episode each week. For 6 seasons worth, we got to see live-action versions of our favorite faerie tales - from Rumpelstilskin and the Frog Prince, to Rapunzel, Hansel and Gretel, Puss in Boots, and more, there were very few faerie tales not covered in this show. Eventually, it got to be that each episode had some famous actor or actress playing a role. Some were clever and funny, otherwise were a tad on the scary side. Regardless, I tuned in each week with my mom for the next installment of Faerie Tale Theatre. It got to the point where she would tape them on VHS for me so I could watch them over and over again.
Press Your Luck
One of my favorite game shows in the 80s was Press Your Luck, aka The Whammy Game. While it was originally on CBS, I watched it when it was rerunned on USA Network. In the first round, contestants answer trivia questions to earn spins on the board. In the second round, the player with the least amount of spins goes first, hoping to land on a space that gives them cash or a prize. Often contestants would chant "No Whammy, No Whammy!" as the light spun around the board. Getting a Whammy - red little devil looking guys - would take away all your earnings and pass your spins onto the next player. The Whammy animations that would play when a player landed on a Whammy spot were pretty amusing though!
VH1
One channel I would watch regularly in the 80s was VH1. My mom recalls when I was just a baby, I would pull myself up, holding onto the coffee table, and dance along to Tina Turner videos. Now I wasn't allowed to watch MTV, but boy did I enjoy VH1! I remember waiting around, watching all day for George Harrison's video to "Got My Mind Set On You" - I loved how all the objects in that video came to life and sang along! I also enjoyed watching Michael Jackson videos and Gloria Estefan videos as well. So many favorite songs and videos I had... I could spend hours playing with my toys in the family room and having VH1 on in the background, paying attention when I heard one of my favorite videos come on. They used to play videos all the time too, unlike nowadays.
Nick at Nite
In the 80s, while Nickelodeon had kids programming on during the day, in the evening they would play classic television shows from yesteryear. I remember often watching some of these with my mom - shows like Alfred Hitchcock Presents, Green Acres, Mister Ed, Mork and Mindy, Betwitched, I Love Lucy, and more. It was a great way to see shows that were before our time - often ones our parents enjoyed watching as well. The 90s continued this trend as well, however in the last decade, the only way to view the classics is by occasionally catching them on some other channel playing in syndication, as Nick at Nite today pretty much only plays George Lopez and The Nanny.