As previously mentioned, I usually only get hooked on the VH1 reality shows, and despite having a roommate and a few neighbors who were into the show when I was in college living in the dorms, I never really got into the Donald Trump Reality Show, but after the cast of Celebrity Apprentice 3 was announced, I was intrigued and wanted to check it out.
I'm hooked!
Just take a look at this cast though:
(From left to right)
Comedienne and Writer Carol Leifer, Sinbad, WWE Diva Maria Kanellis,
Rod Blagojevich, Sharon Osbourne, Olympic Sprinter Michael Johnson,
The Donald, Celebrity Chef Curtis Stone, Cyndi Lauper, WWE's Goldberg,
Baseball Player Darryl Strawberry, Bret Michaels, Victoria's Secret Model Selita Ebanks,
Summer Sanders, and Holly Robinson Peete
Why am I excited about this cast/season?
Several reasons!
I'm anxiously waiting for Sharon Osbourne to make some Rock of Love related remarks to Bret Michaels, as she was the "headmistress" of Rock of Love: Charm School, where she had the task of taming and weeding out Bret's "romantic" rejects from the first 2 seasons of Rock of Love.
Plus, you just know Sharon is a brutal force not to be reckoned with or underestimated - she's currently the breadmaker in her family and she still, year after year, forces Ozzy to perform and do Ozzfest when physically he shouldn't (the show I saw, he actually ran offstage in a panic for about 10 minutes while Sabbath went into an instrumental til he could get back onstage - he didn't look or sound good!). The woman's ruthless which is why I can see her going far and possibly winning.
Bret does have a bit of an advantage here though, at least when it comes to the cameras. Unlike a good handful of this cast, he's got plenty of experience when it comes to Reality TV and how they can edit things. He mentioned this in the 2nd episode, as he took a brief "time out" from his team, as he was getting frustrated with Sinbad's lack of leadership and refusal to tell him what he should be doing. He noticed the cameras following him around in a secluded area and immediately went back to group citing "Guys, gimme something to do - just tell me what I can be doing. I got these camera guys following me around now and it looks like I'm not doing anything and I don't want to be shown as a slacker! I did 3 seasons of Rock of Love, I know how they film and edit this stuff and I don't want to be portrayed like the slacker - please give me something to do!" Granted, it went in one ear and out the other and all Sinbad heard was "Rock of Love," but still, Bret did have a valid point and picked up on what was going on rather quickly!
I'm also excited to see some more stars from my childhood days!
I remember listening and singing along with Cyndi Lauper and her hit "Girls Just Wanna Have Fun" in the 80s - my best friend growing up had it on their parent's karaoke machine and it was one of our favorites to sing along to! Plus Cyndi is just sooooo crazy and out there! It's amusing watching her as she's full of ideas, but can't seem to ever stay focused or on task - I can't wait to watch how she drives Sharon nuts this season! So far, just in the first 2 episodes, during both challenges Cyndi has broken out into one of her songs, getting the rest of the crowd to join in! She's definitely amusing! I'll hate to see her go, although I can't see her winning this thing - not with her competing against someone like Sharon Osbourne!
Who from my generation can forget the Sinbad kid/family friendly comedies of the 90s? I remember my dad taking me to see Houseguest and telling me that he was at the Pittsburgh Int'l Airport where they shot one of the early scenes and how he tried to stick around as an extra, but because he was traveling on business, he couldn't wait around as long as he would of had to.
I remember watching Summer Sanders host the Nickelodeon game show Figure It Out every weekday afternoon in the late 90s. I've since learned that she's an Olympic swimmer, however anyone from my age group and younger most likely knows her as the Figure It Out host.
I also used to watch Holly Robinson Peete every week on TGIF's show Hangin' With Mr. Cooper (Mark Curry) in the early-mid 90s, as she was one of the main female leads on the show.
Now as for Blago... of course I have to comment on him being on this show!
Being an Illinois resident for most of my life, I can't say I'm thrilled he's on this show, but he has been amusing to say the least! EVERY chance he gets, he's off talking to people about how he "didn't do those things," he's "innocent of all charges," and he "did a great job leading the 5th largest state in our nation." I can't help but laugh every time he says one of those phrases or something along those lines (he says them so often is should be a drinking game!) - yeah he did such a *great* job that our state is currently poor, my city has nearly a 20% unemployment rate and my local school district is laying off teachers left and right right now because our *great state* owes the district $112 million dollars for the budget they never received! As it is, my aluma mater just recently got the funds Blago had promised them over 2 years ago to remodel the building and area where the shooting took place, and if I recall, it was a lot less than what he said they'd get for it.
All his talk actually got him trouble in the first episode though - as he was too busy telling his tale of innocence to anyone who would listen, he let Joan River's burger get cold and she wasn't too happy (Trump sent her to act as a secret shopper and check up on the teams during their challenges).
And in the second episode... random people on the streets of New York are coming up to him, recognizing him, and calling him a crook and telling him he should be in jail! Ha! Also, some girl mistook him for Donny Osmond, going on about how her name is Donna and she was named after him... he was just like "Uh, my name's Rod... who do you think I am?" It was hilarious!
It was also pretty funny, early in the first episode when he made some comment about liking the guys he's on a team with and how he feels they got each others backs and Sinbad was all "Yeah Rod, I'd have your back - I'd be all 'Rod, get off the phone! Quit talking on the phone, Rod! ROD - SERIOUSLY, USE A PAYPHONE!'" lol... it was pretty funny watching a comedian like Sinbad give him some grief about it too!
Honestly, the days he got arrested and kicked out of office it was literally like a state-wide holiday here in Illinois - everyone was thrilled to finally see him go!It was also pretty funny to see how fast they tore down and covered his name on the tollways - it was literally within days, they didn't let that stay any longer than possible!I don't even know how he got elected to a 2nd term - I know I sure didn't vote for him! I think one of the main reasons that anyone from Illinois is watching is just to see him get fired... again! I also find it hilarious and ironic that his charity is the Children's Cancer Center, as he was such a jerk in another "scandal" of his where he was withholding money that was supposed to go to the big Children's Memorial Hospital in our state.
So there's my thoughts so far on the show.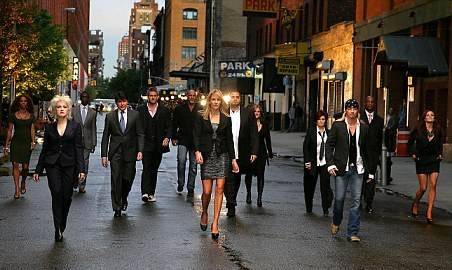 I'd suggest checking it out this Sunday night (9/8c on NBC) or catch up on the first 2 episodes online - it definitely seems like an interesting season with an amusing cast!