Normally, I try not to review movies in this blog, as I tend to save those for
my movie review blog, Movie Bits
, but this one was too classic not to pass up mentioning!
I tend to watch a lot of TBS, as I enjoy all the older mixed with newer sitcoms that they play, in addition to some of the movies they air as well. Now my husband works a 3rd shift job, so often times, I'll be watching TBS late at night, as they don't air annoying infomercials like most channels do after 2 and 3am - by 2am, they have a movie playing that carries me over until he gets home and we can go to sleep (unless I'm really tired, I usually stay up til he gets home at around 3:30am, as if I'm not in deep sleep by then I'll usually wake up when he comes in and won't be able to get back to sleep). These "very funny" movies tend to include both newer films that came out in the last 10 years, as well as ones from the 80s and 90s.
Last night's movie of the a.m. was
D3: The Mighty Ducks
.
Now I remember seeing the first Mighty Ducks movie when it was in the theaters back in 1992, and then watching it over and over throughout my childhood, and I also remember seeing the sequel,
D2
where the Ducks compete in the Junior Goodwill Games (aka, Olympics for kids), and I remember when they actually made a Mighty Ducks NHL team named after the team in the movie.
Somehow I missed this 3rd installment though!
In the 3rd film, Coach Bombay (Emilo Estevez, aka, Mr. "I'm a Sheen but don't want to be known for my relationship to dad or bro") takes a backseat, as he's absent through about 2/3rds of the film after he gets the Ducks a full ride scholarship to some prestigious prep school in Minnesota, where they can all play hockey together as the school's new JV team and get a good education as well, however he announces soon after enrollment that he won't be coaching, as he's been offered a job elsewhere. Charlie and the rest of the team are a bit upset at this news, but try to make the best of the situation and give prep school hockey a chance. However their new coach has a completely different style of coaching and approach to the sport than they're used to and the Ducks keep clashing with the jocks on the Varsity team. Will they give up, or learn to work together the way their new coach insists?
Watching some of the cast in this film from 14 years ago, it was interesting to see the early acting days of some of them and think about where they are now!
The most obvious cast member that comes to mind:
Joshua Jackson, as team captain Charlie Conway.
In his pre-manwhore days of playing Pacey Witter on
Dawson's Creek
and starring in late 90s/early 2000s film roles where the character he would play had the same mindset of Pacey, we got to watch him grow up in these Mighty Ducks films. I don't know, personally I seem to find him more likable and endearing as Charlie instead of Pacey. Nowadays he stars in Fox's
X-Files
-for-the-2000's-wannabe TV series
Fringe
(okay, so I've never actually seen the show, but from the commercials I've seen and what I've heard, it sounds very X-Files-ish).
Next, is Marguerite Moreau as Connie Moreau
(By the way, I love when they take a character's name from part of the
actor/actress's name that's playing the role! Way to show lack of effort, filmmakers!)
Marguerite, you may remember, was the main female lead on the hockey team, playing as one of the tough forwards. Over the years, she's had television guest roles on a whole slew of films, and roles in quite a few movies - I mostly remember her "grown-up" self starring in 2002 big screen adaption of Anne Rice's
Queen of the Damned
as semi-innocent yet hot researcher Jesse, opposite Stuart Townsend and Aaliyah. She had a guest role in an episode of ABC's hit series
Lost
. Nowadays, it appears she has a regular gig as Katie on NBC's new drama/comedy
Parenthood
.
Who can forget Kenan Thompson?
Now around the time he was on Nickelodeon's
All That
and before he was half of the 90s kid comedic duo Kenan and Kel, Kenan played Russ in
D2
- a kid from LA that gets recruited to the Ducks midway through the film, and stays with the team in
D3
. Making a slew of both TV and film appearances in the late 90s/early 2000s, we all watched his career take off and end up where he currently is, as a regular cast member on
SNL
. Despite having skills of his own, I do somewhat miss the days where we got to see him and Kel Mitchell on screen together doing what they do best - making us laugh! It is ironic that he went on he to be a pretty decent comedian in his own, as growing up, his role was always the more logical, down to earth guy, while Kel was the dim-witted, goofy one with his head in the clouds that made us kids giggle at this dumb antics.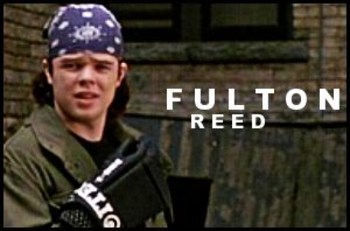 Elden Henson
, who played tough "Basher Brother" Fulton Reed in the series, had roles in several films (usually with his hair bleach blonde) such as
She's All That
,
Idle Hands
,
The Butterfly Effect
, and
Lords of Dogtown
to name a few, but nowadays it seems he's been sticking to smaller guest roles on TV.
And the rest of the team from D3?
Shaun Weiss
, who played the wise-cracking goalie Goldberg, had a minor role as Sean in (one of my favorite televison shows of all time)
Freaks and Geeks
has pretty much stuck to smaller television roles as well.
Ty O'Neal
, who played the ice-skating cowboy Dwayne Robertson in
D2
and
D3
had roles in the films
Postman
,
Wild Wild West
, and
American Outlaws
. He is a member of the Professional Rodeo Cowboys Association and was seen as a bull rider in some Holiday Inn commercials.
Aaron Lohr
, who played the other "Basher Brother," Dean Portman, in both
D2
and
D3
, hasn't really done much in his career the last decade, aside from playing Steve in the film adaption of the Broadway musical
Rent
.
Vincent Larusso
, who played Adam Banks in the series, had a brief role as a bank robber in 2008's
Superhero Movie
.
Mike Vitar
, who played Luis Mendoza in the last 2 Ducks films and was Benny "The Jet" Rodriguez in the classic 90s flick
The Sandlot
retired from acting in 1997 and became a firefighter for the LAFD.
Garette Ratliff Henson
(Elden's younger brother), who played Guy Germaine in the films and also starred opposite of Christina Ricci in 1995's
Casper
, went to college, got married and hasn't done much since in the way of acting.
Matt Doherty
, who played Averman in the films, aside from a brief role on
Boston Legal
, hasn't done much until recently, appearing in a commercial with Lee Majors and taking guest roles in crime dramas such as
CSI
and
Bones
- he does appear to have a feature film coming out this year though titled
Last Call
.