Everyone has certain shows that they MUST watch every week. For me and my hubby, we have a regular TV-viewing routine we get ourselves into.
Community
(Thursday nights at 8/7c on NBC)
Community is probably one of the best new shows of the season. Starring Chevy Chase and The Soup's Joel McHale, this one follows a group of students at Greendale Community College who have one thing in common - Spanish class (which is taught by the always hilarious Ken Jeong). While trying to woo Britta in the first episode, Jeff (McHale) tells her he has started a study group for the Spanish class and invites her to come join, thinking that he can just tell her everyone else canceled when she gets there and spend a little one on one time with her. His plan is foiled though, as she has told several other students in their class about his study group and invited them to come along with her. What results over the course of the show is a friendship amongst a bunch of mismatched students (in a later episode, they talk of how their little study group has become like a family), each episode following some adventure, dilemma, or challenge they encounter at their community college.
The Office
(Thursday nights at 8/7c on NBC, 3 hours on Tuesday nights on TBS starting at 8/7c)
I really would like to know why no one told me years ago that I should be watching this show. It wasn't until after my husband and I caught an episode of it after the 2009 Superbowl that we got hooked on this one. Even though we had both heard of it, neither of us really got into it before then. And fortunately for us, TBS got the syndication of it last summer, airing every episode through the 5th season, so we were able to get all caught up before the start of the 6th season. We can't get enough of this show! It's got some really good plot lines that carry over throughout the series, as well as some really funny moments that anyone who's ever worked a job can relate to. And the cast and acting is pretty spot on too!
Caprica
(Friday nights at 9/8c on SyFy)
I saw a commercial for this one not too long ago before it premiered. It looked like it was a show where a father loses his daughter, but due to the technology he has, he is able to bring her back as a clone. It intrigued me. My husband (who watched the premiere without me) watched the 2 episode premiere with me on onDemand. On the title card between commercials it had the subtitle "58 years before the fall" - I asked him what that meant and he informed me it was a reference to Battlestar Galactica and that Caprica is sort of a prequel to BSG, as it takes place in the same universe. So while my interpretation of the commerical I saw wasn't quite spot on, it was somewhat close. This series follows Dr. Graystone and his wife Amanda, who lost their daughter Zoe in a tragic train bombing which was a result of a religious fanatic. However, Dr. Graystone learns that Zoe hacked into a virtual world where she and her friends would hang out and created a digital avatar of herself, which he tries to bring into the world via a Cylon (robot) he has been working on for his job. It also follows lawyer Joseph Adama, who also lost his wife and daughter in the train bombing, as he longs for them still, but questions whether or not Graystone's ability to create virtual avatars of them is ethical. While I never watched BSG (although I would like to someday when I have time to get through all, what, 5 seasons), this series has kept me pretty interested so far. It's a futuristic drama with a really neat plot that's still unfolding.
The Soup
(Friday nights at 10/9c on E!)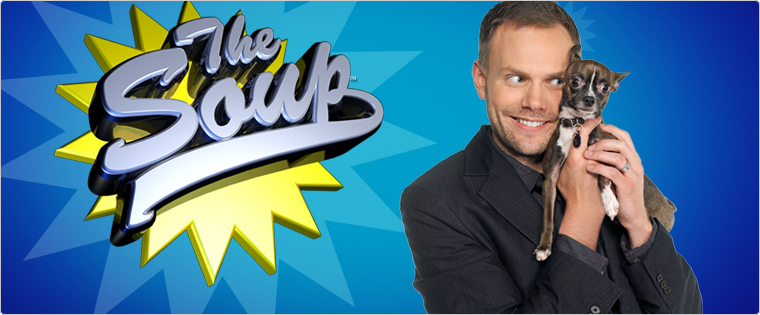 The Soup is one of those clip shows where the writers/producers of the show condense hours worth of tv viewing down to under 30 minutes, covering morning news shows, mid-day and afternoontalk shows, as well as various reality shows, highlighting some of the more funnier or WTF moments that happened. Joel McHale delivers the commentary.
Frank the Entertainer in a Basement Affair
(Sunday nights at 8/7c on VH1)
While this is the current show of the moment for our Sunday nights, really you can put any VH1 Sunday night show in this slot. For some reason, I'm hooked on VH1's celebreality programming and I can't help but watch this spin-off of a spin-off. In this dating game show, women compete to win the love of repeat VH1 reality contestant Frank, who is 30/31 years old lives at home in his parent's basement. We first met Frank when he was a contestant competing to win the heart of Flavor Flav repeat reject New York in her show's second season. Eventually Frank competed on both seasons of the spin-off show I Love Money, with the intent to the win the money and move out of his parents basement (he lost both seasons). Eventually VH1 gave into the demands of Frank's fans and gave him his own show, however, unlike all the other celebreality dating shows, Frank doesn't get to move into a nice mansion. Instead, they give him a small house resembling one you'd find in a suburb of Brooklyn (and oddly enough, they tried to pass this off as being his parents real house, when archived footage from a reunion show where they visit Frank proves it's a different house) and guess what - mom and dad are there with him! It's been quite an amusing show so far, living up to its VH1 celebreality predecessors!
Entourage
(recently moved to Sunday nights at 10/9c on SpikeTV)
I never got to watch this show as it originally aired as we don't get HBO and I HATE using my Netflix queue on multi-disc TV shows that aren't available on Instant Watch, so I was THRILLED to hear last fall that it was coming to SpikeTV, every episode from the beginning. Yes, it's edited, but from what I can tell so far, it's only the language and the dubbing of that isn't so bad. This show follows up-and-coming actor Vincent Chase and his entourage, which includes his best friend and unofficial manager Eric (aka E), their friend "Turtle" who acts as the errand boy, and Vince's brother Johnny Drama who is a former actor trying to get back into the business. We get a little insight into the life of a young Hollywood star living life, among the ordeals they go through to get movies. Another neat thing is that the show is somewhat based off executive producer Mark(y Mark) Wahlberg and his transition to Hollywood and acting, basing the majority of the characters off his real-life entourage/friends and staff.
Other viewing throughout the week that we sometimes watch
During the weekdays, we usually watching
CSI
reruns on SpikeTV in the afternoons, then flip it over to TBS and watch a little
Seinfeld
before dinner.
On Monday evenings, we occasionally watch
Heroes
(9/8c on NBC), although that one's gotten a bit bland and I'm usually doing my Mary Kay thing on Monday nights; and
Pawn Stars
(10/9c on the History Channel).
On Wednesday evenings we turn it over to Comedy Central and watch a little
South Park
(10/9c) and
Tosh.0
(10:30/9:30c) before hubby goes to work. Occasionally, when we don't have our Wednesday night class, we'll watch some ABC Comedy, with Patricia Heaton's new show
The Middle
(8:30/7:30c) and
Modern Family
(9/8c).
Sometimes on Thursday evenings, we'll watch
Parks and Recreation
between Community and The Office (although usually I use this time to make dinner) and sometimes we'll keep the TV on and watch
30Rock
after The Office, but not all the time.
Late night, I tend to watch whatever is on TBS between the 10-11pm slot (or 11pm-midnight slot if you're in the Eastern time zone), which is usually either back to back episodes of
My Name is Earl
or
Seinfeld
, followed by 2 episodes of
Sex and the City
(1am/12 c). I'll also sometimes watch whatever is on VH1 too if I get tired of the episodes playing on TBS.
Hubby and I also make sure to squeeze in at least one episode of
Married with Children
, which runs for several house straight on TBS starting at 5/4c before falling asleep (remember, he works 3rd shift and gets home around 3:30am our time - central) - that show is pretty darn funny!
What are your Must-See TV shows?