Last week when I won my Geek Girls Unite award, I mentioned in my "10 Geeky facts" I used to cosplay when I went to anime conventions. I also forgot to mention that for Halloween one year (2005), my college roommate and I dressed up as our WoW characters.
She dressed up as her mage, I dressed up as my pally. It wasn't really too hard to do - we found some Medieval-type costumes and just added onto them - I bought a pair of red leggings and said they were "Lightforge" (the original level 60 blue dungeon paladin armor set), I had a pair of boots already, pulled my hair back into a ponytail like my paladin's was back then (I changed it right before Wrath when they introduced the Barber Shoppe, as I was wanted to change it up after 3 and a half years), and shopped around in various shops that had Halloween costume accessories and found a 2-handed mace that sorta resembled the level 40ish 2-handed mace Blanchard's Stout (which my pally had for a while).
Here's the final result:
On facesofwow.com and on various guild forums this pic became synonymous with me, as everyone thought it was awesome - I created Flour (my pally) after my own likeness, so naturally this costume worked pretty well!
And yes, that's a Harry Potter and the Prisoner of Azkaban banner hanging on the wall behind me - I won this my first summer at the theater for selling the most overpriced Wonka Bars in a single weekend (10). Seriously, it was like $3 for this tiny chocolate bar that we had to push that weekend since the movie was out and it was a limited time promotional item. The winner got their choice of 1 of 3 HP3 banners - when I told my roommates they insisted I do everything I could to win it as they wanted it for our apartment, lol...
We had a lot of fun with our costumes though - we took pictures of my roommate doing various "mage-y" things, like stand at the kitchen sink and "conjour water" or pose at the dining table with a sandwich on a plate and we claimed she "conjoured food" lol...
For those that asked, below are my ACEN cosplay photos
The first year I went (2003), I didn't cosplay as the only other convention I had gone to was an X-Files convention back in 1995/1996 with my dad and had no clue what to expect. The only anime I was familiar with at the time were the children's shows I grew up watching, as well as the various Tenchi series that Cartoon Network played weekday afternoons and FLCL, as I had caught that one on Adult Swim a few times.
The only reasons I went was because my friend had asked me to take her - she was one of the "cool" freshman in high school when I was a senior (there were 3 freshman who somehow got stuck in the junior/senior lunch period that year) and this was right after my first year of college. She was still a minor so her grandma wouldn't let her go alone, not to mention she couldn't get a hotel room by herself either because she wasn't 18; usually she went with a friend who's parents tagged along and did other things in the area while they wandered the convention, however her friend decided a few weeks prior that she didn't want to go. Also, my friend had introduced me online to a guy friend of hers she had met the year before at the convention and kept in touch with whom had similar interests with me and was only a year older than me and I started crushing on him (which played a minor factor into my break up with high school sweetheart), although soon after I became single, he started dating her friend (the one that backed out of going, although once she learned I was going, she changed her mind literally days before the convention). Despite him seeing someone, I still wanted to meet up and officially meet him in person.
I had a blast that first year though, started dating Lazyass a few months later and the following year he got me caught up on quite a few anime series so I wasn't such a n00b the next year and I decided to cosplay.
So my second year (2004) I decided to go as Mamimi from FLCL, as that was still my favorite anime. My friend dyed my hair red for me (although she found my mom's Oxy-clean while we were dying my hair in my parent's basement and had a bit too much fun with it, getting some of it my hair so it was a little splotching a few places, lol...). The socks and the shoes I had already, as well as the cat as I had bought that the year prior. The skirt and hoodie I got at the Salvation Army and my sewed the back flap on for me; the bag I bought off eBay and my mom sewed the white stripes on it. I think my first cosplay turned out pretty well!
I found a really neat Haruko (also from FLCL) to pose with for a photo!
The next year (2005), the Lazyass decided to cosplay (these are probably the only photos you will ever see of him on this blog), so we decided to both do a Naruto cosplay. He was actually the best looking Asuma there (actually, I think he might have been the only one), while I was one of the better Anko's. This was probably the easier cosplay I did - the weapons and headband I got off eBay, I already owned the fishnet, the black sports bra and the black biker shorts. The navy sandals I bought for a dollar at Old Navy and then I bought a pair of navy socks and cut them a bit and wore them over the sandals. The shinguards were an old pair from my high school soccer days, I just cut the back off them to get the right look. Then I bought the jacket and skirt at Salvation Army. The hair was probably the most annoying part, as it was supposed to be purple, but for some reason when I sprayed it on, it was pink...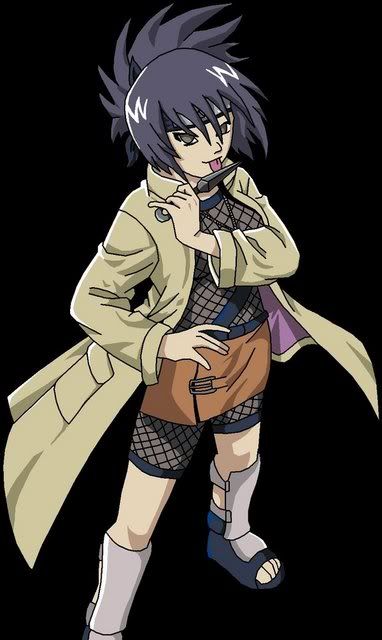 This guy cosplayed as one of the other Chunin Exam instructors, from the 2nd story arc in Naruto
Anko and Asuma (me and my ex), in duel
Anko battling Ochimaru
The following year, I got caught up on Bleach, so for 2006, we did a couple's cosplay of Yoruichi and Urahara in their everyday clothes (that is, when Yoruichi isn't in cat form). I bought the black turtleneck and stretch pants, opted for a purple wig this time since the purple hair spray stuff didn't work too well the year before, reused the shinguards from the previous year, and looked all over the place for white canvas shoes. My mom made the orange jacket for me, as I couldn't find anything like it to even use as a basis. My ex bought his costume on eBay, minus the fan and cane which he found elsewhere... and he didn't realize til we got there that he didn't have sandals and the only ones we could find for sale at the Con were too expensive, so he just wore black sneakers! lol...
Me as Yoruichi and a really cool looking Soi Fon / Me and my ex
The 2 Yoruich's with the cool looking Soi Fon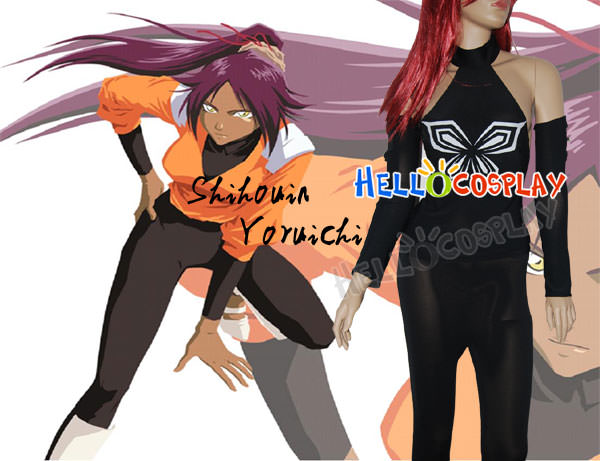 The 2 main Yoruichi outfits she wore back when I watched the series
For this photo session, there were soooo many Bleach cosplayers (which was funny cuz the year before there was maybe 15 at most!) that they had us take photos in groups based off what character we were. Since there were only 2 of us Yoruichi 's they threw us in with the Urahara's.
And there ya go folks - my cosplay costumes over the years.
2006 was the last year I went to ACEN, as my ex and I broke up and well, 2007 would have been a bit awkward as we would have been stuck in the same group of friends, and then in years since I just either haven't had the money to spare to go or to put into a costume or been able to afford to take the time off work.