A few months ago I got a coupon in my email from Shutterfly, offering me a free 8x8, hardcover 20 page custom photo book where all I had pay was the $8.95 shipping. Given that normally these cost at least $19.99, I didn't want to pass the opportunity up, but I wasn't really sure what kind of photo book to make as I regularly fill photo albums with 4x6 photos.
A friend on Facebook was talking about how she was doing a 1st year book for her son, as she felt she slacked on putting together his baby book. In the comments, a friend of hers mentioned how she knew someone that put together a family photo book for their children so the babies could flip through it and identify all the relatives they see regularly!
What a great idea!
Jay's got quite a big extended family, as hubby has 5 siblings so a family photo boo would be a great way for him to get used to recognizing faces of family members and remembering who's who!
So I spent an evening after Jay went to bed and put one together for him.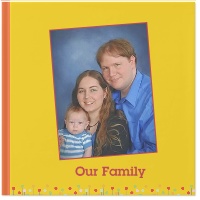 There's pages of just me and hubby, labeled mommy and daddy, then ones of us with Jay. There's a spread of our kitty Tiger, another of my parents, hubby's parents, my sister, my aunt, uncle and cousin Jay sees occasionally, one of his aunt, uncle and 2 cousins, hubby's sister, and one of Jay's other 3 uncles.
He loves looking at pictures, so this has been pretty neat, however I have to be careful showing it to him since it's not a board book and I don't want him tearing up the pages, lol...
It's actually pretty neat and I'm glad I didn't let the coupon go to waste! Shutterfly runs specials and promotions quite often too, so you'll most likely never pay full price if you want to make one of your own (which I definitely recommend!).